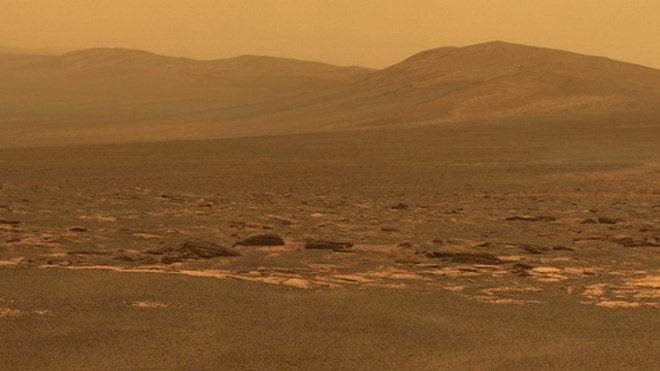 American missions to Mars are an icon of technology , but underneath it , the American space program is a stand still.
With the Mars landing recently , the United States has reached a new level of praise . However it may seem the American space industry is at a stand still .
The shuttle system was on it's way out , but there were objections to the retirement of the shuttle program .
The space shuttle program's retirement was ordered by the Bush administration and the phase out took 6 or 7 years to accomplish.
While America is still good at sending robotic probes explore other worlds . Our nation is at a cross roads . Please note :
Obama had no plan to replace it and cancelled the one that was in progress. Obama cut NASA 's budget and gutted Johnson space center in Houston. I hear it is about the same in Florida at Kennedy. The **Mars landing shows that American industry is still there , but this defining moment is being cheapened when we have to send American's to Russia to fly in one of their rockets . At a hefty price ,
NASA has struck a $753 million deal with Russia for 12 round trips to the International Space Station, but will now have to pay more per seat – almost $63 million, the U.S. space agency announced today
. As ridiculous as it seems , Obama cuts NASA . So that money now is being spent on Russian rockets .
The price so far? About $3.5 billion for 40 tons of payload. (No savings for the U.S. taxpayer there.)
While the Democrats and the Obama campaign accuse Mitt Romney of outsourcing jobs while at Bain Capital, they seem to forget all about Obama's largest outsourcing accomplishment: The U. S. space program.
How much of the Space Industry here has been hurt ?
In the U.S., entire towns that once relied on the space industry are decimated. Not only federal employees and contractors have lost their jobs (
over 40,000 in 2011
) , but many others have also lost jobs from businesses like restaurants and shopping malls. The US
lost more
.
It lost the Internationale Space Station
. The United States built it with the aide of the Shuttle program first , piecing it together for the world . The Shuttle program was the most advanced system we had to reach to the stars . While Obama defends his space privatization for it's next generation of heavy launch vehicles , it's sure enough going to slow America down before it send men and women back to the Moon , or even Mars.
Russian Rocket's blast away with our Technology .
NOTES AND COMMENTS:
**
President Obama proposed letting the Hubble Space Telescope to fall back into the ocean. I ask why no one is screaming mad at this

.
The US House of Representatives Appropriations Subcommittee on Commerce, Justice, and Science approved by voice vote a yearly spending bill that includes no money for the James Webb Space Telescope (
JWST
).
Nearly $3 billion for the congressionally mandated Space Launch System (SLS) heavy-lift rocket, Orion deep-space capsule and related ground systems and infrastructure. NASA has yet to define a mission for these vehicles.
Almost $830 million for the Commercial Crew Program, which NASA is counting on to restore independent U.S. access to the International Space Station.
Some $700 million for the Space Technology program, $125 million more than this year.
Roughly $630 million for the James Webb Space Telescope (JWST), which Congress threatened to terminate last year due to huge cost overruns. The $109 million increase was needed to keep the now $8.8 billion astronomy flagship mission on track for 2018.
Remember Congress is spending a
About $3.5 billion for 40 tons of payload to the Russians . It can afford that , but cuts NASA spending.