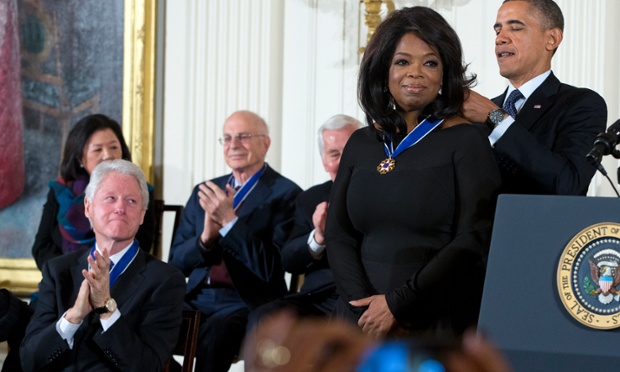 After a week of outrageous comments
Ms. Winfrey gains on
the race card . Here awarded the Medal of Honor by
President Obama.
Well it took a while , President Obama has had his list of defenders . So here I am going blog them all here . They may not be related . From MSNBC's

Martin Bashir,

take a look at any program these days on TV . It pretty much heated up with specialty between 'Conservative' against ' Liberal' . Each side had their week on spewing

controversial

words.

Ed Schultz, Chris Matthews, Rachel Maddow, Alec Baldwin or Lawence O'Donnell all are looking sad these days . What set them off this week? Together with all the hype recently I wanted to comment on what Ms.

Oprah Winfrey said in an interview with a British reporter ,

how else to explain

her comments to a BBC host that she thinks President Obama is disrespected because of his race?

I wanted post my view that from an angle it looks like that Mr. Obama has had a rough ride , and it looks like that there might be a just hint of "rejection" on the part of GOP , but from so many angles what looks like any form of

'racism'

against Mr. Obama as viewed by Ms. Winfrey may be on her part, her failure to recognize that the President made some mistakes and is being attacked for his failures rather than his skin color . This is what what made me a bit jumpy about Oprah .
On BBC, Oprah Winfrey made a bold statement about President Obama: "There's a level of disrespect for the office that occurs… because he's African American." "There's no question about that. And it's the kind of thing no one ever says, but everybody's thinking it," she continued. In an attempt to "prove" her point with an example of "racism," Winfrey brought up the time Republican Congressman Joe Wilson shouted "You're a liar!" at Obama during a 2009 speech.-
Americans Hate Obama Because He's Black. OK, next she said this
that "
for racism to end, racists must die
". Winfrey
also said "
People are terrorized because of the color of their skin, because of the color of their black skin.
", and that "
there are still generations of people, older people (White people), who were born and bred and marinated in it – in that prejudice and racism – and they just have to die.
" Next comes
Black leader Rev. Jesse Lee Peterson is challenging Oprah Winfrey to put up or shut up. He this to Oprah
"Oprah Winfrey is sending a destructive and racist message to black youth," said Peterson in a statement Tuesday.
"I'm calling on Oprah to back up her claims and give proof of blacks being terrorized by whites. She can't – because it's not happening.
Winfrey made the remarks in an interview with the BBC last Friday on the subject of her movie "The Butler."
The only way for racism to disappear, she said, would be for "older [white] people who were born, bred and marinated in prejudice and racism to die."
Oprah states in this video that "People are still judged by their skin-color, and that's the problem." Yet in saying "all whites are racist" (and, does she KNOW what she is saying?! Must "DIE" because of it?!!). She, herself, is judging (the character; thoughts, words and deeds) .
Interestingly, Oprah failed to mention that Obama enthusiastically campaigned (twice) to be subjected to the so-called "level of disrespect"
that accompanies the office, and was twice successful.
Oprah,
came from humble beginnings and stand as testaments to America's exceptional nature. She has to "thank" the whites that helped her become what she is, and should best put her talents on helping poor African Americans here in America .