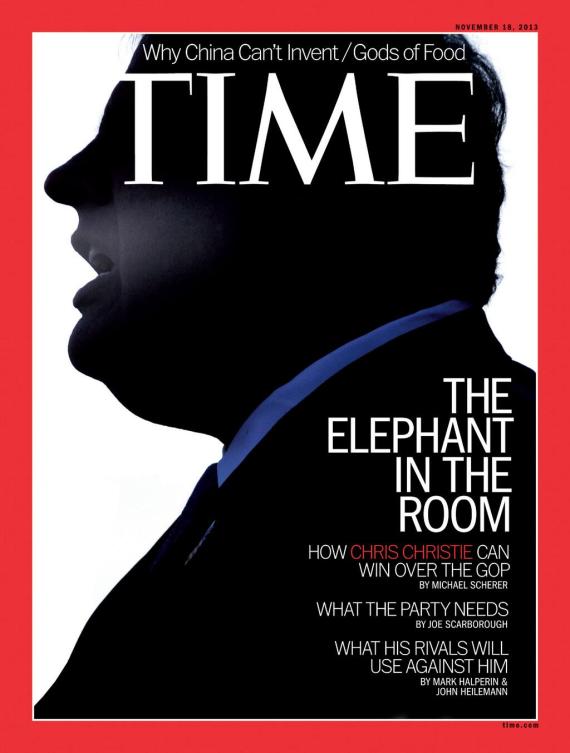 Christie's win is a GOP 'Sign'
to Heed.
The landslide re-election as governor of New Jersey, Chris Christie surges some 'mixed' kinda hope among the far right and GOP. There is no question on my mind that the Republican party has to
'reconstituted'
. It's hardly the party with any thing new these days. Between now 2013 and 2016 there is going have to be a lot of work to turn this party around.
TIME
magazine recently has featured Christie on its cover twice , not much as the
'Come back kid'
, but as the
' Can he do it kid'
. The magazine cover of Christie is a silhouette of his face that reminds you of Al
fred Hitchcock
theme, titled

" The Elephant in the Room"

. Chris Christie's weight has always been an issue , Christie's record as Governor has not always been on the bright side of economic growth either for his state . Christie has been attacked by most conservatives
Yes, he is a conservative; a very conservative conservative. The problem people are having is that Obama and many of the other democrats in our government are also conservatives.
Unlike most others in his party, Christie recognizes this, and understands that he could advance the agenda effectively by working with the "liberals," rather than oppose them when they advance conservative ideas, as the republicans tend to do.
, as you know Christie has lashed out at his party favorites like Ted Cruz , none the less for the Democrats he is their 'favorite' so
swimming in Democratic money
as he ran for reelection. His Democratic opponent, Barbara Buono, is ignored by the national press and the sort of people that would usually be writing checks for the Democratic challenger to a Republican governor in a large, liberal state. It had the opposite effect .
Christie's most unforgivable and possibly politically fatal move was his bro-hug of President Obama in the aftermath of Hurricane Sandy. Obama visited Christie in New Jersey just six days before the 2012 presidential election, and not only did Christie
greet him warmly
but he also praised him for his leadership! It was a shocking move, particularly in such a hyper-partisan age, and he will have to summon his considerable oratorical skills to explain his way out of this during a 2016 Republican primary fight.
Voters like candidates who are comfortable with who they are. In that sense, Christie's weight could be a plus. He's a big guy, with a big personality, and big ambitions. His size is distinctive, like Ronald Reagan's hair, or President Obama's ears. There's nobody who looks like him in US politics.
In the end, his physical presence will just become one part of the total package voters weigh. He's indeed the elephant in the room. What remains to be seen is if he becomes the elephant in the Oval Office.