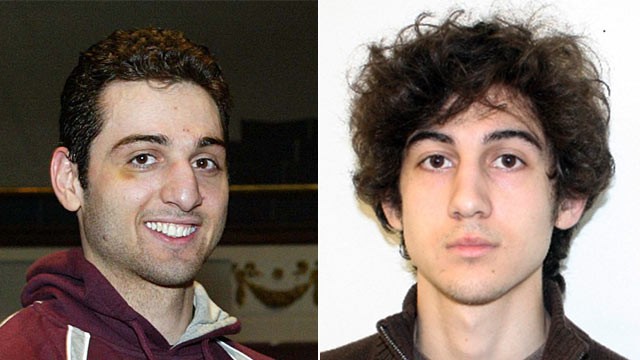 The two suspect brothers linked via Chechen , and al- Qaeda ?
It was certainly a bad week for America . The Boston bombing and a vary curious " explosion" at a Texas fertilizer plant near Waco. My last blog posting I was a bit cautious because the FBI had not released any information on the suspects . There was lots of speculation in the air , but now for me it seems to be getting clear who or what could had been really behind the bombings . I am only suspecting that there is that connection with the

Chechen insurgency

mujahedeen, the two suspects obviously to the reports lived in the United States for a number of years although . A connection to

Al Qaeda is vary possible . Since The Chechen insurgency was aided by al-Qaeda . Another disturbing fact is that the two "brothers"

Tamerlan and Dzhokhar Tsarnaev had para-military experience as reported by news sources . Far cry as I said that they were two armatures . Of coarse there was another report saying the the two brothers may suffered from some kinda of mental break down that they both hatched a plan to carry out their anger , and so on . I really don't buy into any kinda "sympathy" for any of them . I am one to believe that they may be part of a terror cell that al-Qaeda is using possibly from Chechnya here in the United States . If our Government really wants to do something right they should try to capture the last suspect alive . Preventing him either blowing himself up in a blaze of glory.

Police also found multiple explosive devices in a house in Cambridge, across the Charles River from Boston. They said they would do a controlled detonation Friday afternoon.

Tsarnaev vanished after he and his brother Tamerlan Tsarnaev, 26, got into an early morning gun battle with police today that left Tsarnaev's older brother dead.

Massachusetts State Police Superintendent Col. Timothy Alben said this afternoon that authorities are going home-to-home in search of the suspect and are chasing "several new leads."

Whether al Qaeda had any role – direct or indirect by the internet – in the radicalization of these two men, it is likely to revel in the results of their attacks in Boston. While the attack was nowhere near the magnitude of 9/11, it has consumed the American media and political scene for almost a week so far, led to the unprecedented lockdown of an entire American city, and sent the White House itself into enhanced

security.
While we were all consumed by the Boston bombing. The nation had another "peculiar" incident that should be investigated S
ome 35 people -- including 10 first responders -- died in a massive explosion Wednesday night at a fertilizer plant in West, Texas, Mayor Tommy Muska said, according to USA Today.
Given the Boston Bombings occured just 2 days before this explosion, it seems incredibly coincidental that this explosion occured 2 days before the anniversaries of two events from history-
No one is talking terrorism, at this point. But sure is an odd weak of coincidences:
Monday – Boston Marathon bombing
Tuesday – Ricin mailings to Senate and Obama
Wednesday – Waco-ish fertilizer explosion.
Heckuva coincidence.
NOTES AND COMMENTS:
The Boston bombing probe points to Mid East terrorists with domestic support
DEBKAfile Exclusive Analysis


16 April.
Our counterterrorism experts point to hallmarks of Middle East terrorism in the initial investigation of the twin bombings that struck the Boston Marathon Monday, April 15, killing three people, including an 8-year old boy and injuring 176 – seventeen critically. The ball-bearings, nails and shrapnel planted in the bombs for maximizing casualties are a familiar "professional" feature of Middle East terrorism. The Boston event would have required a team of 4-5 bombers on the ground backed by at least 10 accomplices and spotters. The FBI is seeking two men. One was described as swarthy, speaking with a foreign accent, his face partially hidden by a hood, who was carrying a large backpack near the finishing line
Another man was photographed walking on a rooftop overlooking the second bomb explosion.. 
Tuesday, the FBI admitted "a potential terrorist inquiry" was underway, although President Barack Obama, when he pledged justice for "the perpetrators," carefully skirted the term "terror."
Suspicion of a foreign hand was strengthened when the US media reported that a Saudi national suffering from severe burns was being questioned in hospital. The Boston Police Department denied the report.
Heightened terrorism alert remains in Boston, Washington and New York. The first response to the explosions in Boston from Middle East itself came from Mohammad al-Chalabi the head of an extremist Jordanian Muslim Salafi group, who said he's "happy to see the horror in America…"