Donald Trump
debuted at the Republican National
Convention Monday in a
cloud of fog backlit by blinding lights.
Well the RNC just seemed to me that GOP is trying to unify under Trump and "salvage" what ever pieces are left of the Party .
For months Trump has promised a riveting extravaganza in Cleveland, describing the 2012 convention as "the most boring convention I've ever seen." The
Washington Post
recently describes the RNC first day as despicable'.
Trump's a showman, and that he would borrow from the bombast of pro wrestling should be no surprise.
Here's Trump again, emerging from a great white light, as a ' messiah' of showmans .
The stated theme of Tuesday's slate is (1)>>"Make America Work Again" — a potential challenge of tone for speakers eager to sully Mrs. Clinton on a topic as sober as job creation, a night after blistering attacks on her foreign policy.
And as Mr. Trump seeks to present himself as a fiscal wizard of the highest order, he has assembled an eclectic cast of validating voices to attest to his business savvy.
Some onlookers found Trump's use of a song by Queen problematic, including the band itself.
After Trump walked out to "We Are The Champions" in a speech last month, Queen guitarist
Brian May
wrote on his site
that the band was exploring legal options to prevent him from using it again. Quoting the Washington Post again:
"

Republican National Convention was purportedly about national security. In fact, it was about portraying liberalism as an ideology of national betrayal. Speaker after speaker intimated that President Obama, Hillary Clinton or both are directly responsible for a variety of American deaths because they value the lives of foreigners over those of their countrymen."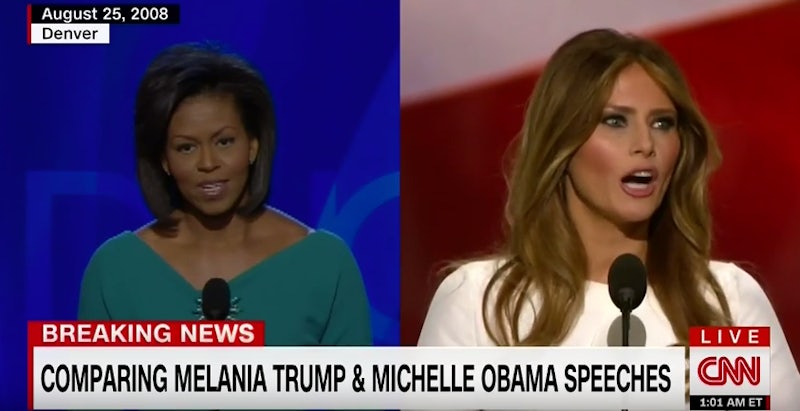 But still: Nominees don't typically appear on stage on the first day of national conventions. And Trump's grandiose entrance wasn't even to his own speech — it was merely
to introduce his wife
.
"Oh, we're gonna win. We're gonna win so big," Trump said.
None of the speakers discussed Trump much, save for his wife, Melania, who — besides
apparently plagiarizing Michelle Obama
— said that her husband is a warm man who respects minority groups, but offered no examples of Trump's well-hidden virtues.
All this "plagiarism!" crying merely shows what a useless confection of clichés Mrs. Obama's speech was. Any dull-witted speech-slinger on auto-pilot was bound to have steered close enough to trigger the accusation. I saw this speech rather late jumping in on UK's Sky News . It did not ring out to me , to say that I heard this all before....(1.2)>>
Melania, she sounded really good , so convincing . G
iven on a national platform . She sounded remarkably similar not as much to Michelle Obama , but Melania reminded me of
Maria Shriver introducing Schwarzenegger for Governor .
The sad thing is that every convention both Democrat and Republican these speeches repeat the same generic pablum, almost verbatim, and nobody notices. These speeches for me are a long line of broken promises by would be persons who desire to to attain a political office . It would really funny if Melania did lift a few words from Michelle , perhaps she has to in order to humanize Trump to the masses .
Mike Pence , Trump's hard-line choice .
I was a bit caught of guard that Trump picked Pence for his VP. I always assumed party loyalty for Chris Christie .
Chris Christie conceded in an interview Tuesday he was "disappointed" that Donald Trump didn't pick him to be his running mate —
Before Christie was in the running to be Trump's running mate, he had been considered a top contender for the job of U.S. attorney general in a Trump administration.
But even with the vice presidential selection process behind him, Christie wouldn't reveal his interest in that position and said he and Trump have not discussed the position or what Trump's cabinet would look like.
Right now reading some online remarks about this choice are not so good , some are saying that Trump may have ruined his chances . Why?,
Pence may offer ballast to the Trump ticket. But he clearly does not offer balance. On many of the most important issues of our time, (2)>>Pence is a hard-line right-winger.
But in Pence, Trump would basically be getting a "generic Republican": a 57-year-old white man; the governor of a midsize, red-leaning state; someone with
very conservative
but otherwise conventionally Republican policy position. It MIGHT seem like a good thing , but these days there is pretty much a revolt against the system of politics in this country . Conservatism is a failure , the Tea Party for example , where Pence had his leanings is vary much a washout . The nation is leaning to the left on many things . Trump should have been a little more savvy in his choice . If Trump wants go get America united on both sides , his choice ruined his image as a outsider "moderate" . Trump's record has been in the last two decades inline with the likes of Micheal Moore rather than professing "Reaganism" .
Now Pence is in a close race for reelection with the same opponent he narrowly defeated in 2012. Becoming Trump's running mate would be a risky move—it'd require Pence to drop out of the governor's race.
*********************************
"The very future of the Republican Party is up for grabs," Maria Shriver said. There is a great analogy that someone gave me for Arnold: The Republican Party is the stern father. The Democratic Party is the permissive parent. Arnold has taken the strength of both parents. People say to me, 'I can't vote for a Republican,' but I say, 'Why not?' People get so caught up with labels." ---Vanity Fair , 2005 .
NOTES AND COMMENTS:
(1)>>"Make America Work Again".
I love this . We have to make America work again , be a better nation . My question is how ? I am worried that Pence is going to introduce his vision for the nation rather than Trump . In 1987 in a famed Larry King interview Trump told King that hell "never run" that was a long time ago . People change . Trump is a intelligent man , he clearly is , but he has never held public office . This is problematic . It may not disqualify him from the Presidency .
So began a decade of interviews that helped the real estate developer transition from a figure of note in New York City to a national celebrity and household name. Though described even at the time as a man with a brash personality and a giant ego, in the interviews, he seems polite and even somewhat humble in comparison to the man now seeking the Republican Party's nomination for the presidency.
see- http://week.watch/cnn/donald-trumps-entire-1987-cnn-interview-larry-king/
(1.2)>>
Melania, she sounded really good , so convincing
. She stoled the show . If Donald ever gets in the White-House , sure there would be a lot of gossip , dirt digging . Melania would be the first lady who has posed nude.
CNN's Ashleigh Banfield asked conservative businessman Donald Trump's campaign a very personal question: if his wife Melania Trump was First Lady, would her "racy photo spreads" be a problem?
( http://www.gq-magazine.co.uk/article/donald-trump-melania-trump-knauss-first-lady-erections ) she also would be the first lady who her own cosmetic business (
http://www.melaniatrump.com/my-world/
) . What ever the case she would be a "interesting" First Lady!
(2)>>
Pence is a hard-line right-winger
.
In his six consecutive terms in Congress, Pence grew from a backbencher at the start of the Bush years to a powerhouse within the leadership of the GOP caucus. Staunch support for the invasion of Iraq and adamant defenses of the intelligence that led the country to war there aided his rise. Once in power, he played for broke on hardline social conservative policies, helped lead the Republican effort to stymie progress in President Obama's first term, and then went home to lead Indiana in much the same style.
While Pence is viewed as a "safe" and "conventional" choice that will help rally the Republican establishment to Trump, his actual record is far more extreme and controversial
.
In a September 2002 CNN appearance, Pence called for a formal declaration of war on Iraq and asserted that Saddam Hussein's regime was supporting al Qaeda. Three days later on the network, he said "there's overwhelming evidence…circumstantial and otherwise to suggest a connection between Iraq and al Qaeda." In an editorial board interview with the local Palladium-Item in Richmond, IN that month, he went further. "There is an enormous amount of evidence that Saddam has weapons of mass destruction, is doing his best to develop more lethal weapons, and funds and supports terrorism," Pence, then in his first term, said.
Less than a year later Pence's conviction that Hussein had WMD was exposed as a sham. But the freshly re-elected congressman rejected calls to investigate what had gone wrong with the Bush administration's case for war. "It might be enough for you [to want an inquiry], but I'd rather put my confidence in the overwhelming evidence of over a decade," he told a CNN host. "It really defies logic and common sense and the overwhelming consensus of the intelligence community of the western world to suggest that a weapons program, weapons of mass destruction was not present in Iraq leading all the way up to Operation Iraqi Freedom."
As the bloody, chaotic, destabilizing aftermath of Operation Iraqi Freedom became obvious, Pence kicked his denialism into high gear. Returning from a visit to Iraq that included a visit to a downtown market in Baghdad, Pence wrote, "I told reporters afterward that it was
just like any open-air market in Indiana in the summertime
."