It seems here in America the re-interpretation of Britannia's choice to leave the EU was an independence defining moment .
The "Brexit" vote stunned the country's political elite, the financial markets and British bookmakers,
all of whom had expected a very close vote in favor of remaining in the European Union.
Instead, (1)>>Britain now finds itself in uncharted waters, and looking for a new captain.
Britain will spend at least two years negotiating the terms of its departure from the 28-member alliance that has dictated the economic and political order in Europe for more than four decades. Britain must elect new leadership, strike new trade deals and craft a dizzying array of new regulations about issues such as immigration and investment.
Prime Minister David Cameron, just days after vowing that "Britain never quits," says he'll be stepping down by October.
Though the damage is likely to be concentrated on the other side of the Atlantic Ocean, experts said the repercussions would ripple across the world and into the United States. The domino effect was on full display Friday as the (2)>>
Dow Jones Industrial Average plummeted
more than 600 points in one of the most harrowing days of trading this year. The drop was even more dramatic in Europe and Asia, where major stock indexes sank 7 percent or more.
So Great Britain's decision to leave the EU is enough to leave the world economy teetering on the edge of collapse. If that's the case something is definitely wrong.
For Americans, there are other questions. The U.S. government has long favored Britain-in-Europe, both because the U.K.-EU single market speeds U.S. business on the continent, and because U.S. policymakers have long worried about the statism and anti-Americanism likely to prevail in an EU from which Britain is absent.
Why Britian left the EU?
The force that turned Britain away from the European Union was (3)>>the greatest mass migration since perhaps the Anglo-Saxon invasion. 630,000 foreign nationals settled in Britain

in the single year 2015. Britain's population has grown from 57 million in 1990 to 65 million in 2015, despite a native birth rate that's now

below replacement

. On Britain's present course, the population would top 70 million within another decade,

half

of that growth immigration-driven.

Almost every Western European country joined the EU group to merge their economic rules in 1993. They did this by allowing people, goods, services, and capital to move freely between member countries. It's kind of like how states in the US work.The EU has helped foster long periods of economic prosperity, and it's helped keep the region at peace.
T
he consequences ,UK not only will lose duty-free access to the EU's single market of 500 million people; it will have to renegotiate every single trade deal with the rest of the world since all of them have been EU-negotiated. French economy minister and presidential hopeful Emmanuel Macron has already warned that, "if the UK wants a commercial access treaty to the European market, the British must contribute to the European budget like the Norwegians and the Swiss do. If London doesn't want that, then it must be a total exit." Britain will be locked out of the single market – to which over 50% of its exports go — unless it pays almost all that it currently pays. Moreover, London must still accept freedom of movement, as in European immigration.
Take, for example, the 2008 financial crisis. Many economists agree that the European Central Bank failed to respond effectively, leading to a recession that was much more severe than it needed to be. Unemployment rose, and tax revenue fell. Banks needed bailouts, and debt in a number of EU countries soared. The Obvious question
Who will lead Britain into this uncharted territory? Bookmakers back Brexit leader and former London mayor Boris Johnson, the elitist populist who commands a mixture of public affection and deep mistrust: clever but careless, a spinner of words but not of detail. That outcome is likely but uncertain too. Watch out for home secretary Theresa May, quietly positioning herself as a second Thatcher. In his subdued victory speech Johnson made no mention of his leadership ambitions and sought to reassure young, educated voters – overwhelmingly for Remain – that Britain will not be pulling up the drawbridge.
The Murder of Jo Cox . Suspicious anyone ?
British MP Jo Cox , out spoken member
of Parliament defender of
human rights.
Assassinated before UK referendum .
Just Prior to the UK referendum ,
A rising star in Britain's Parliament was shot and stabbed to death.
Just two days ahead of Britain's referendum on whether to leave the European Union, Russia's state-owned Channel One ran what ostensibly appeared to be a news item on the vote. But cutting from the studio presenter before a backdrop of the UK and EU flags, the item opened with an aerial shot of police working at the site where Labour MP (4)>>Jo Cox was murdered on June 16.
It's a bit strange in this day in age of "conspiracies".
in an attack that stunned the nation and brought the country's European Union referendum campaign to an abrupt halt just a week before the vote.
The killing was of the sort that has become all too common in the United States, but is virtually unheard of in Britain: without warning, hyper-violent and ultimately, perhaps, inexplicable.
It claimed as its victim Jo Cox, a widely respected 41-year-old member of the center-left Labour Party who won election last year after a career in humanitarian work and who was widely respected for her outspoken advocacy on behalf of refugees and civilians in Syria.
Officials did not provide a motive for the killing. But British media organizations including the Guardian and Sky News quoted witnesses as saying that the assailant shouted "Britain first!" during and after the attack.
Britain First is the name of a far-right group that
stages provocative anti-Muslim demonstrations
. After Thursday's attack, the organization posted a statement on its website denying involvement and saying it "would never encourage behavior of this sort."
Witnesses told British media that the assailant appeared to have been waiting for Cox outside a library in the town of Birstall where she had been meeting constituents as part of her usual weekly schedule.
MP Jo Cox wanted to remain in the EU.
In
a video message
posted on Britain First's social media channels on Friday, Jayda Fransen, the party's deputy leader, disputed evidence that its name was shouted and falsely claimed that Cox, a former aid worker who was elected to Parliament last year, was not assassinated, but killed while trying to break up a fight between two men on a street in the Yorkshire town of Birstall.
It seems crass to say this of an event that left two small children motherless, but Mrs Cox's death meant that for three days at least, most people in the country heard almost nothing of the arguments for and against the EU, since campaigning was (rightly) suspended and headlines (rightly) focussed elsewhere.
Monday's recall of Parliament will mean the story once again dominates the agenda.
That's a particular worry for Remainers because their hopes of overturning the Leave lead had rested on a week-long media blitz in which their core message about the economic risks of Brexit would be hammered home to wavering voters again and again.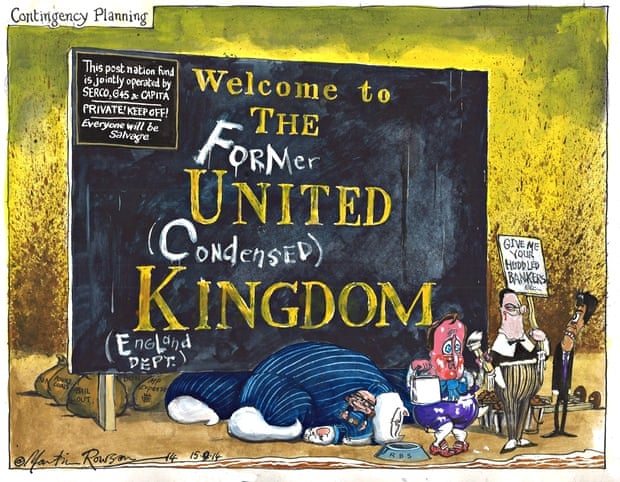 The Scottish National Party, which runs the Scottish Government, has said that Scotland being dragged out of the European Union without its consent might be cause for a second independence referendum.
U.S. bank JP Morgan said on Wednesday it now expects Scotland to vote for independence and introduce its own currency before Britain leaves the European Union in 2019.
"Our base case is that Scotland will vote for independence and institute a new currency at that point (2019)," JP Morgan economist Malcolm Barr said in a note to clients on Wednesday.
Scottish First Minister Nicola Sturgeon will meet European Commission President Jean-Claude Juncker on Wednesday afternoon, seeking a way for Scotland to remain in the EU.
Scotland voted to stay in the EU in last week's referendum, putting it at odds with the United Kingdom as a whole, which voted 52-48 percent in favor of Brexit.
For all the expectation of an imminent central bank intervention over the past two days, something which according to Bloomberg
was the main catalyst for the stock surge since Monday
.
The (4)>>Spanish prime minister Mariano Rajoy, has said he will oppose any attempts to hold talks with Scotland over its EU membership in the wake of Brexit.
Any separate deal for continued Scottish membership before the UK completes its two-year withdrawal process would depend on unanimous support from EU member states.
But acting Spanish prime minister Mr Rajoy said after a summit of EU leaders in Brussels that he wanted to be "very clear Scotland does not have the competence to negotiate with the European Union".
What he did instead is open a new Pandora's box, one which invites all secessionist movements in Europe to demand a comparable treatment.
The UK and the EU have two years to figure out the terms of the exit — what rules would still apply to Britain and what privileges Britain would still get.
(1)>
>
Britain now finds itself in uncharted waters.
Nicola Sturgeon
is to lobby EU member states directly for support in ensuring that Scotland can remain part of the bloc, after Scots voted emphatically against Brexit on Thursday.
The first minister has disclosed that she is to invite all EU diplomats based in
Scotland
to a summit at her official residence in Edinburgh within the next two weeks in a bid to sidestep the UK government.
Ms Sturgeon revealed the plan after 62 per cent of Scots voted Remain in the EU referendum.
The SNP leader confirmed her government will begin to draw up the legislation that could see a fresh vote on Scottish independence take place within the next two years.
(2)>>
Dow Jones Industrial Average plummeted.
All the pre-Brexit polls were too close to call or showed a clear edge for Remain. Now the Wall Street Journal is reporting that George Soros and several of his clones made billions. Could it be that they played the classic market game of pumping up the difference between expectation and results? The bigger the difference between rumor and news, the greater the killing.
Something smells here. Could some of the polls and betting markets have been manipulated by the smart money to suck in the dumb money on the wrong side of the bet? A few millions to manipulate expectations would be a small price to pay for some of those who "madoff" with billions on this play, so to speak. It's ERM 1992 all over again in the exchange rate casinos, and will be for quite some time. Soros is laughing all the way to the bank today with his bulging gold holdings.
(3)>
>
the greatest mass migration since .
By uncanny coincidence, EU referendum day in the U.K. coincided with the U.S. Supreme Court decision that halts President Obama's program of executive amnesty for young illegal immigrants and their parents, an estimated 5 million people. American policymakers—like their U.K. and EU counterparts—have taken for granted that an open global economy implies (and even requires) the mass migration of people. Yet this same mass migration is generating populist, nativist reactions that threaten that same open economy: The anti-EU vote in the U.K., the Donald Trump campaign for president in the United States.
If any one person drove the United Kingdom out of the European Union, it was Angela Merkel, and her impulsive solo decision in the summer of 2015 to throw open Germany—and then all Europe—to 1.1 million Middle Eastern and North African migrants, with uncountable millions more to come. Merkel's catastrophically negative example is one that perhaps should be avoided by U.S. politicians who seek to avert Trump-style populism in the United States. Instead, the politician who most directly opposes Donald Trump—presumptive Democratic nominee Hillary Clinton—is doubling down on Merkelism.
(4)>
>
Jo Cox was murdered . Russian Media was ablaze with speculation.
In the segment, correspondent Grigoriy Yemelyanov notes the media discussion of her killer Thomas Mair's reported mental health issues and his links to the far-right, but then says that "discussing how this killing took place at a good time for the British government is quietly considered unseemly."
Yemelyanov turns to right-wing British journalist John Laughland, who is director of studies at the Paris-based Institute of Democracy and Cooperation, headed by Russian nationalist Natalia Narochnitskaya, a former State Duma deputy.
Laughland, a longtime Eurosceptic and defender of any dictatorship to have fallen foul of the West, tells Channel One:
"

The press have really been venting emotion, writing about how this is a terrible murder, how Jo Cox was a wonderful woman and so on. They are not making assumptions. Generally none at all. I remember that when a politician was shot dead on the street in Russia, in Britain everyone was shouting over each other that this was done on the orders of the authorities. But now no one is asking any questions. No one in the press has suggested that Cox's murder could have been orchestrated."
The man suspected of murdering British Member of Parliament (MP) Jo Cox on Thursday was identified as Thomas Mair. The 52-year-old, locally known as 'Tom' or 'Tommy,' was arrested shortly after the attack in Birstall— a market-town in West Yorkshire, where he has lived for most of his life.
Cox was fatally attacked and shot outside her constituency surgery and was pronounced dead at 1.48pm. Police have not formally identified Mair as the suspect but they have searched Mair's semi-detached home and said they are not looking for any other suspects.
(4)>>Spanish prime minister.
Scotland will get no joy from the EU. To many countries there especially Spain with the Basques and Catalans who want what Scotland wants separation. No chance if they are expecting Spain to vote on their behalf.
Spanish PM Mariano Rajoy said only the UK, and not Scotland, had competence to negotiate with the EU. "I am extremely against it, the treaties are extremely against it and I believe everyone is extremely against it. If the United Kingdom leaves ... Scotland leaves," Rajoy said. Spain fears Scotland's bid to stay in the EU, which could entail declaring independence, could inspire Spanish regions to follow suit.