How 20 minutes of action
destroyed a young man.
However there are many sides to
this case to ponder .
I would have tried to avoid commenting on this but could not help it.

On June 2, former Stanford student Brock Turner

continues to upset and anger millions of people.

Was sent to county jail, along with probation, after a jury unanimously found him guilty on three counts of sexual assault. His sentence was a mere six months . (1)>>Brock Turner's "crime" was heinous (seriously) . You have to look at what he did , it was not just your average rape case . I guess the media was a bit silent about the details .

The

Santa Clara County Sheriff's Office full police report

now reveals those details about what happened on the night in which Turner raped his victim,

Emily Doe

, while she was unconscious. As outlets are releasing . I honestly think after reading what Brock Turner did , his slap on the wrist treatment by the Judge has to do with a case of "favoritism" at best .

Since then, there's been some discussion about the terms "rape" and "sexual assault," and what the difference between them is. Some have

argued

that the

media

isn't making a strong enough statement about Turner when it uses the word "sexual assault" instead of "rape" or "rapist."

There have actually been plenty of news articles with headlines referring to the

"Stanford rape case"

or referring to Turner as a

"rapist,"

even though he was not

technically

convicted of "rape" in the state of California. Yet the debate over the terminology reflects an idea that is very common but isn't necessarily true: the notion that sexual assault is a less serious crime than rape.
I recently signed a petition asking for Judge Persky's recall .
Persky has faced mounting opposition since sentencing Turner to six months in county jail.
I base my views that the leniency toward Brock follows a similar line of leniency . Consider
Audrie Pott a
the Saratoga teenager who killed herself in 2012 after she was sexually assaulted by three classmates at a drunken house party, said they tried to give voice to Audrie by going public with her name and photo. The boys in that case were
Bronson Barna, Saha Ghafouri and Vince Rositano admitted in juvenile court to sexually assaulting and possessing photos of Audrie Pott, both felonies. Two of the three received 30-day sentences to be served on weekends. The other was sentenced to 45 consecutive days. Because of their ages, the three teenagers were not publicly identified at the time. Even the Pott case did not much ignite national debate regarding goings on at parties . Vary little laws have been enacted to push harsher sentences .
The Brock conviction should have carried a potential sentence of up to 14 years in prison. When handing down the significantly lighter sentence, Persky said he feared a harsher punishment would have had a "
severe impact
" on the champion swimmer who had hopes of competing in the Olympics.
Even putting aside the precise definition of his conviction, it is no wonder that his six month sentence has received such criticism.
The problem with this entire scenario and the justice system is that some male judges see themselves in these boys; it's almost like a right of passage, soring your oats, etc. The judge/this man failed this young woman. Men need to educate these boys that it's not ok to abuse women, unconscious or otherwise, teach them how to respect women.
In an article about Persky published by the Mercury News on Monday, Tracey Kaplan
writes
that this isn't the first controversial sexual-assault case the judge has presided over, pointing to Persky's involvement with a 2011 gang-rape trial.
In 2007, a 17-year-old girl alleged that she was gang-raped by at least nine members of the De Anza College basketball team at a house party while she was severely intoxicated. Three soccer players discovered the rape in progress and broke it up; they said they discovered her unconscious and covered in vomit, and
called it
"
clearly not consensual." District Attorney Dolores Carr
ultimately decided
not to move forward with the case, which was met with criticism and protests at the time.
In 2011,
the case was brought to civil trial
and the victim sued for $7.5 million in damages. Judge Persky presided, and, according to a
Mercury News
.
Brock's Father.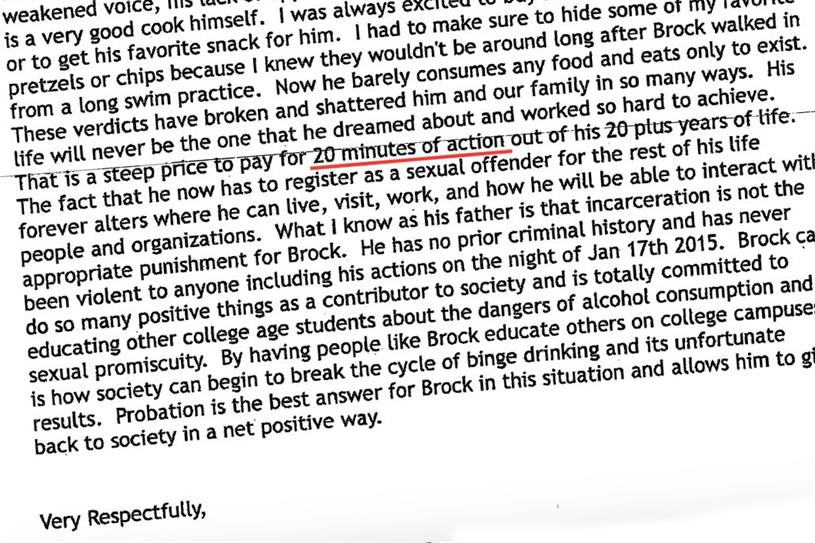 I
n the letter, which has since gone viral, Turner's father asks for mercy from the judge saying that incarceration "is a steep price to pay for 20 minutes of action," he wrote. Readers have been shocked by how willing to forgive his father was, failing to even refer to the crime his son committed, calling it "action" instead of what it actually was: rape.
Turner's father also submitted a
letter
in the course of proceedings, and it stood in stark contrast to the words of the victim. The elder Turner
spoke
of the effects of the prosecution on his son, including details like his loss of appetite for steak and a description of the rape as "20 minutes of action": Turner's father also pointed out something regardless how out of touch he is under duress for his sons defense . His letter , though a bit of a sad comical irony defending his sons wrongs rings with one bit of truth :
By having people like Brock educate others on college campuses is how society can begin to break the cycle of binge drinking and its unfortunate result

s.
The Victim :
As it so often happens in sexual-assault cases, especially when alcohol is involved, the perception of the victim influences how juries convict accused rapists. Allowing photos in the courtroom in which the victim is "scantily clad" unfortunately plays into the bogus yet age-old argument that a woman who's dressed provocatively is "asking for it."
As the victim emphasized, Turner's father framed the crime as a result of "binge drinking" and "promiscuity." I think that too much drinking can lead to serious consequences . I know that I am going to get hounded what I am going to say . I wrote a similar post on this blog regarding how I felt about Audrie Pott as well . You have to really open your eyes to the stark reality that no one is going to be safe underhandedly drinking .
You can read the whole thing
here
. It makes for sad reading because this woman has lost her sense of physical inviolability. Something bad happened to her body, even though she was unaware at the time, and she suffers greatly. (2)>>Yet she made her self vulnerable regardless if Brock Turner would have walked away , never touched her at all . Just think about it. Your drunk , your unconsciousness behind a dumpster ? In that situation you would also have to think how long someone would have found you . Brock's victim could have been in even more danger if the "rape" had not occurred . Yet drinking as in binge drinking has its consequences .
If you cut through all the "I am a victim" talk, the reality emerges: One night, there were two disgustingly drunk, incoherent people, the male half of whom ended up having sex with the female half. Everything else is speculation, although the fact that the victim had abrasions on her and dirt in her seems to indicate that he was violent and she fought, or that he was careless and it didn't matter whether she fought or not.
Paralytically drunk people, both male and female, do incredibly stupid things. Sex is a core biological function, the impulse for which is situated deep within our lizard brain. Men, when their self-control isn't just dulled but is erased by alcohol, are going to head straight for sex. Women too will often say yes to sex when drunk even if they wouldn't when sober. The morning after, the woman is a victim; the man is a rapist. The real culprit — overindulgence in alcohol
NOTES AND COMMENTS:
(1)>>Brock Turner's "crime" was heinous (seriously)
.
Brock broke the Penal Code . His actions went just beyond photographing the victim .

The California crime of "forcible penetration with a foreign object" . In this law , it has a narrow margin of examples . Remember laws are subject to interpretation . On what a "object" is . It can be anything . (also known as "forcible sexual penetration" or "sexual penetration by force or fear") is described in California Penal Code 289 PC.

In most cases, it carries a potential

California state prison

sentence of three (3), six (6) or eight (8) years, and/or a fine of up to ten thousand dollars ($10,000).

4

A conviction for forcible penetration with a foreign object will also make you subject to California's lifelong

sex offender registration requirement.

Under California state law, Turner was indeed convicted of sexual assault rather than rape. In California, the definition of rape includes "sexual intercourse," whereas "forcible acts of sexual penetration" is a separate crime. So that's why some headlines refer to Turner as a

"sex offender"

rather than a rapist, or talk about the

"sexual assault"

he was convicted of committing.

Specifically, Turner was found guilty of assault with intent to commit rape of an intoxicated person, sexually penetrating an intoxicated person with a foreign object, and sexually penetrating an unconscious person with a foreign object. (The "foreign object," oddly enough, was Turner's finger; California is one of many states that include body parts that aren't sexual organs in its statutes on penetration with a foreign object.)
(2)>>Yet she made her self vulnerable regardless.
T
his kind of "blaming the victim" attitude is unique to rape. For no other crime has it ever been a defense that the victim "was asking for it." With rape, though, women were put on sexual trial, which is a vile, awful, sexist, unfair, totally wrong thing to do.
My take on the situation — again based wholely on the victim's own letter — is that if he raped her, he raped her. Her letter, though, indicated that they were both drunk, that she was making out with him on the dance floor, and that she has no memory of how she ended up outside, behind the dumpster, under him. Now, it's entirely possible that he was rational enough at some point to either drag her out to the dumpster or find her there and deliberately take advantage of her unconsciousness.