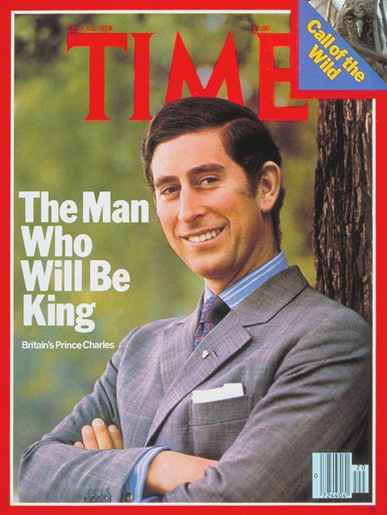 The Cover says it all , but how long
would it be? and it MAY never
be.
Quo Vadis ? Britannia .

TIME

magazine made it's cover with a aging ***Prince Charles (

Prince of Wales, 64 )

this week . I have often wondered how long it would be for a new monarch to reign in England .Hopes are a bit skid-dish , if you think the Prince of Wales will jump to the crown . Guess what ? Several years about maybe a decade ago.Prince Charles was quoted in an interview that the 'monarchy was outdated'. The goodly prince was right . He said it . Prince Charles should already be King of England. The current Head of State , Queen Elizabeth II should have abdicated the throne for her son , yet her iron hand has made a mess of her royal family . We'll never have a Queen Diana,

Prince Charles the forgotten Prince would not be forgotten had he not been ill treating his official wife Diana Spencer

.He

was miserable with Diana. he so much more comfortable with Camilla. he's chilled out quite a lot and has a sense of

humor

The iron rule of the Queen has watered down the monarchy .

But let's keep the Queen where she is.For how long?

we celebrate 60 years of Queen Elizabeth being on the throne. The English are happy , they love the royal pomp as it is , but it's all show . The Queen has no power expect to open Parliament ( thanks Cromwell and Pitt) The U.K. Telegraph 'warned' that the Prince of Wales is a danger to the monarchy:
There is a nagging fear that, when the Queen finally proves mortal, the British monarchy will be laid to rest beside her. How many people who now claim to be monarchists are actually Elizabethists? Men and women who will withdraw their support when our irreplaceable Queen

is no more.
Here is my last thought to this ,

Prince Charles will make an awesome King especially with Queen Camilla by his side. Unlike Diana Camilla has always been supportive of all his endeavours. The Princes Trust has never received the press coverage that this charitable organization deserves and his good works have been mostly ignored by the media in general. In that prospect Prince Harry becomes Prince of Wales , he'll have to wait also 30 years to be KING.
*** The Princes 'titles' are long and varied . He is :

His Royal Highness

Prince Charles Philip Arthur George, Prince of Wales, KG, KT, GCB, OM, AK, QSO, PC, ADC, Earl of Chester, Duke of Cornwall, Duke of Rothesay, Earl of Carrick, Baron of Renfrew, Lord of the Isles and Prince and Great Steward of Scotland, he would be "head" of the Church of England ( like a Pope ) if he were king , but he is not and that's another royal story.