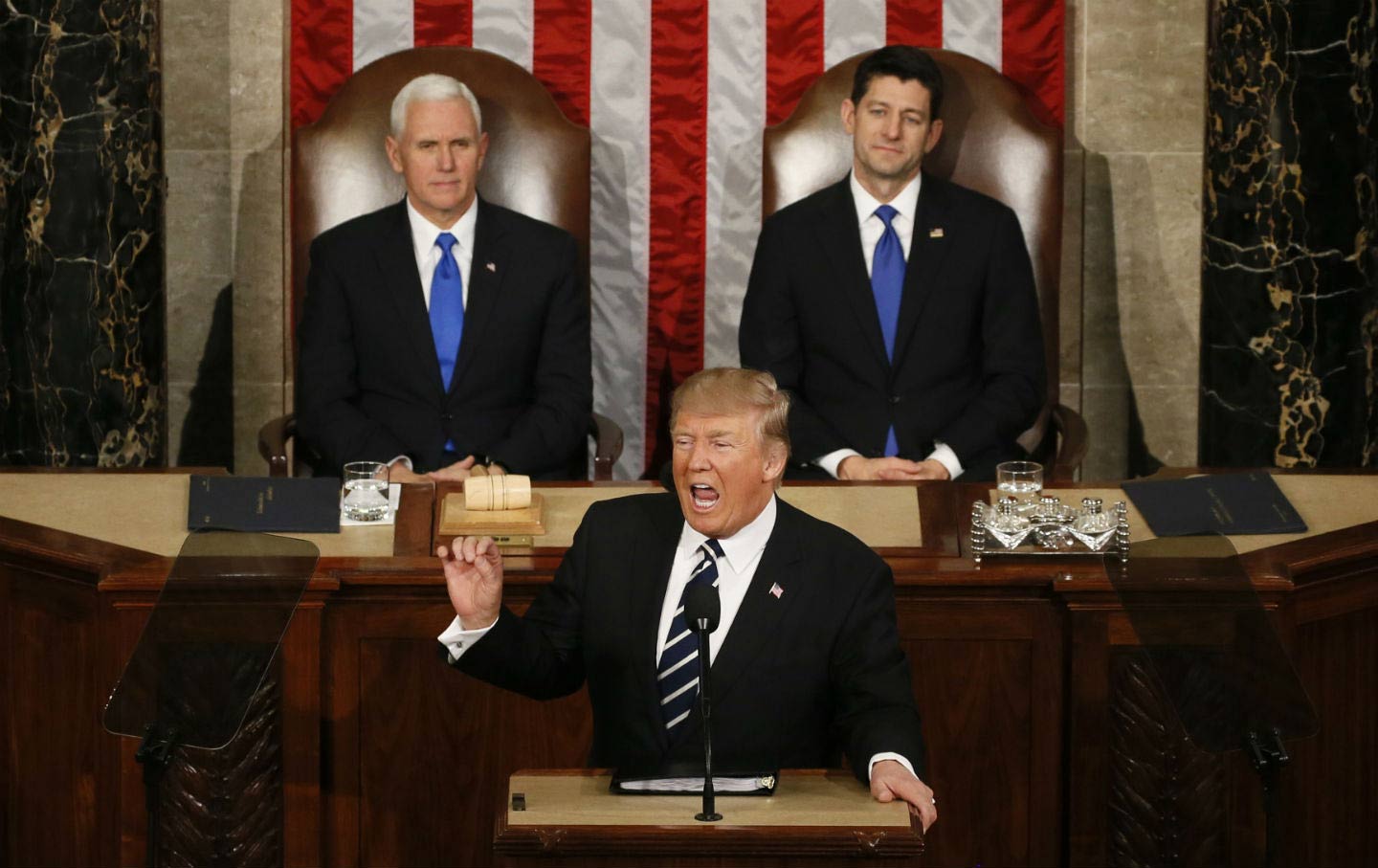 President Trump address Congress giving a
vary mixed and optimistic view
this last week . Urging Congress to act on
his new budget . I noted at times during
the speech that VP Pence and Speaker Ryan
both looked worried on some of
Mr. Trumps proposals .
Surprisingly President Trump regardless of all the (1)>>flubbicity had his best ratings ,
after President Donald Trump
addressed a Joint Session of Congress
for the first time since taking the oath of office,
CNN's
Van Jones
called one particularly moving moment from the speech the real estate mogul's most presidential to date. Trump sound as
Presidential
as he could be . Who wrote his speech is a mystery .
Less than an hour after Trump honored the widow of a slain NAVY Seal, the Democratic commentator suggested that the commander in chief had officially begun to look the part. HONESTLY , Trump's speech to Congress this week was a good one .
Trump heeded that call, as he himself implored the country to "embrace this renewal of the American spirit."
"From now on, America will be empowered by our aspirations, not burdened by our fears — inspired by the future, not bound by the failures of the past — and guided by our vision, not blinded by our doubts,"
the president ended by saying.
But the part that
gets
me is how much of it mirrors Mr. Obama's in 2009 . The main point of (2)>>"rebuilding the infrastructure " sounded vary much like Obama's
stimulus
money of 09' . Like Van Jones , I
don't agree with everything he said in address to Congress
. (2.1)>>I have a PROBLEM with his budget of increasing military
spending
by 10 % , while making 54 billion in cuts in domestic programs .
Trump stressed his efforts so far to achieve his agenda and bring jobs and investment back to the U.S., including measures to cut back on regulation and withdrawing from the TPP.
He recapped his efforts to develop a blueprint for corporate tax reform to increase America's competitiveness while also providing tax relief for the middle class.
The president called on Congress to repeal and replace Obamacare with "reforms that expand choice, increase access, lower costs, and at the same time, provide better Healthcare."
Trump also addressed the safety of Americans, pledging to take a hardline stance against 'radical Islamic terrorism.' He mentioned recent anti-Semitic activity, including threats targeting Jewish community centers and vandalism of Jewish cemeteries.
Trump continued to hew to hard-line rhetoric on immigration, recognizing families he invited to the speech who had lost loved ones to crimes committed by unauthorized immigrants. He announced he had ordered the Department of Homeland Security to create a new office called (3)>>"VOICE" — Victims Of Immigration Crime Engagement — that would provide "a voice to those who have been ignored by our media, and silenced by special interests."
He still stood behind his call for "the construction of a great wall along our Southern border" to curb unauthorized immigrants, though he omitted a line from his prepared remarks that promised it would start ahead of schedule.
He called on
Democrats show the same
rage as Republicans did
to Obama

Congress to work with him on overhauling health care, changing the tax code and rebuilding the nation's infrastructure and military.
But he raised new questions about his policy priorities and how he plans to achieve them, especially on immigration.
Only hours before his address, Mr. Trump had
broken from his tough immigration stance
in remarks at the White House, suggesting that legal status be granted to millions of (4)>>undocumented immigrants who have not committed serious crimes. Many of Mr. Trump's core supporters had denounced that approach as "amnesty" during the campaign.
Trumps speech was accurate, moving and should have made all Americans proud. The disrespect from the Democrats mirrors what the Republican's did to Obama . During the speech was on display for all the world to see. You would think defending our boarders, caring for vets and supporting law enforcement would generate a standing ovation from everyone in the room but sadly that was not the case. Many democrats remained seated and some did not stand at all. How could anyone in their right mind support this?
Donald Trump on Tuesday night called for the United States to adopt a (4.2) "merit-based system" for immigration, saying "it will save countless dollars, raise workers' wages and help struggling families." v
oted that "nations around the world, like Canada, Australia and many others have a merit-based immigration system."
Under such a system, immigrants are selected based on their merit and skills
.
I am vary fearful .....so are most Americans.
While there is general support in Washington for such a plan, however, Trump did not clarify what he envisioned by a merit-based system -- a term that could signal a compromise position with broad support or one that critics say may clamp down on even legal immigration to the U.S. even further.
In the end, Trump's
big moment with Carryn Owens, the widow of Navy SEAL William "Ryan" Owens, who was killed in a raid in Yemen last month,
was instructive. It was by far the most powerful moment of the address and probably a reason for many of the positive reviews. But lurking in the background is a dispute over
whether the raid actually produced the oodles of good intelligence that the Trump administration has maintained
. Carryn Owens was in the crowd, but Ryan Owens's father spoke out over the weekend, asking for answers. It was an interesting speech no one shouted
"you lie" or audibly disrupted the speech. The most gauche displays where when two Democratic members gave thumbs down signs when Trump called for the repeal and replacement of Obamacare and when New York congressman Joe Crowley shook his hand in the air after Trump said "the time for trivial fights is over". For we just have wait and see when he address the nation , or his first state of the Union address .
Jeff
Sessions . Some thoughts .
(5)>>The Russia "witch haunt" continues . Who is next? While Flynn was sacked for lying to the Vice President . Its really becoming a bizarre twist of Tweets from President Trump accusing the Obama administration of wire tapping his campaign headquarters . OK , WHATEVER !!!.

No
ne should lie under oath, but doing so ought to disqualify an attorney-general nominee from the job. However, that's essentially what
Attorney General Jeff Sessions admitted doing Thursday afternoon
in a bizarre press conference where he announced he will recuse himself from Justice Department investigations into Donald Trump's presidential campaign.
Sessions's explanation for failing to tell the Senate Judiciary Committee about his meetings with Russian Ambassador Sergey Kislyak raised more questions than it answered.
Attorney General Jeff Sessions seems to have, um, misspoken about Kislyak under oath. During the Senate Judiciary Committee's confirmation hearings, Senator Al Franken asked Sessions what he would do if evidence turned up that "anyone affiliated with the Trump campaign communicated with the Russian government" while the campaign was underway.
According to
Politico
, Trump called in chief of staff Reince Priebus, son-in-law Jared Kushner, Ivanka
Trump, chief strategist Steve Bannon, communications director Mike Dubke and press secretary Sean Spicer to rant about how Sessions' recusal was handled after the president had previously said he saw no reason for the attorney general to step aside.
Sessions spent the rest of the press conference arguing, unconvincingly, that he hadn't misled Congress when he denied meeting with the Russian envoy. But what makes the apparently friendly meetings so remarkable isn't simply that they are now at the center of another Trump-Russia scandal. It's that Sessions, for nearly 20 years, was considered among the most reliably hard-line of Russia hawks in the Senate.
Might it even be possible that there's nothing more to be learned about (6)>>Trump and Russia, that there are no secrets lying within this web of denial and obfuscation, that it's all above board and ethical? Sure — anything's possible.
NOTES AND COMMENTS:
(1)>>flubbicity had his best ratings.
A
new CNN poll finds
t
hat nearly 7 in 10 who watched said Trump's proposed policies will move the country in the right direction:
On specific issues, Trump scored the highest marks for his proposed policies on the economy, with 72% saying those went in the right direction. Almost as many, 70%, said the same about his terrorism proposals. Slightly fewer, but still a majority, felt his policies on taxes (64%), immigration (62%) or health care (61%) were heading in the right direction.
Of course, Trump mostly kept things vague and wrapped in an optimistic tone; many of the already-introduced policies themselves have generated majority opposition, and now Trump will have to embrace specifics on health care and taxes.
(2)>>
"rebuilding the infrastructure "
Donald Trump made an eye-opening promise during his campaign , saying that he'd spend twice as much as Hillary Clinton on fixing roads and bridges. It's an outlandish proposal for any politician to make. But it's almost inconceivable that the Republican nominee for president would be trudging down this dreary big-government path.
"We need much more money than (Clinton's plan) to rebuild our infrastructure," Trump told Fox...
The numbers we're talking about here are massive. Clinton says that if elected she would boost federal spending...
Trump says he'll spend around $550 billion more over five years, which means that he's effectively splitting the difference between a liberal Democrat and a socialist Democrat. (Trump's spending plan also happens to be in line with what liberal economist Larry Summers advocated at a panel discussion at the Democratic National Convention.)
Looked at another way, Trump would double current federal spending on infrastructure...
...two problems with Trump's -- and Hillary's and Bernie's -- massive infrastructure spending plans. 1) They won't work, and 2)They aren't needed.
How do we know they won't work? Because President Obama already tried it...
...a recent Government Accountability Office report found that, when it comes to bridges at least, things are improving. The GAO found a 21% decline in the number of structurally deficient bridges between 2005 and 2014, while the country built 15,000 new bridges...
...too much bureaucracy. Any new road or bridge, or airport or dam or pipeline faces an onslaught of bureaucratic delays...
As a businessman, Trump should understand this and, instead of trying to one-up Hillary Clinton on spending, he should be demanding more accountability for the vast sums the nation already spends on its infrastructure

.
(2.1)>>
I have a PROBLEM with his budget of increasing military
spending
by 10 %. It sounds really good , right? My view we don't need to increase our spending on military ventures . I say this , is my country going to war again ? . I find it deceptive and alarming . Remember what Trump said on Nukes .
What happens when the world doesn't understand what the American president is trying to say?
In the hours after President-elect Trump tweeted about his desire to expand American nuclear weapons capability — seeming to upend decades of consensus that fewer nukes is better — experts puzzled about what he meant, his own aides seemed to walk his comment back, and Trump himself weighed in to suggest that the most extreme reading of his tweet was the right one.
Trump stunned nuclear experts Thursday by proclaiming in a tweet that "the United States must greatly strengthen and expand its nuclear capability until such time as the world comes to its senses regarding nukes."
(3)>>"VOICE"
President Donald Trump's joint address to congress had many takeaways. It alarmed some Democrats and few Republicans .
President Trump's speech yielded something completely different; the announcement of a new Department Of Homeland Security office
called VOICE
— Victims Of Immigration Crime Engagement — which would give quarterly reports on the effects of crimes committed by "criminal aliens."
While some Congressional members gasped, those following Trump's speech and commenting on Twitter noted that VOICE would be used as a propaganda tool to whip up anti-immigrant hysteria, with one person noting this is "how genocides begin."
(
4)>>undocumented immigrants who have not committed serious crimes.
ICE officials also pointed to language in President Trump's executive order which states that the agency should prioritize deporting any immigrants with outstanding deportation orders.
President Obama deported millions of undocumented immigrants during his two terms in office. A 2014 data analysis by the New York Times
found that
in Obama's first term, many of the people deported were not, as the administration claimed, hardened criminals but had committed relatively minor crimes like driving under the influence or traffic violations.
Starting in 2014, the Obama administration
established a new deportation program
, with more stringent guidelines, that
offered some protection
to undocumented immigrants who entered a long time ago and integrated into their communities.
(4.2) "merit-based system" for immigration.
Canada was also the first country to use a point system to grade economic immigrants — a 100-point scale that rewards foreigners with PhDs and extensive work experience in specialized fields. HOWEVER as good as it sounds , it weeds out poor inexperience labor . I don't know if its discrimination based .
(5)>>The Russia "witch haunt".
Congressional Republicans killed a Democratic measure in February this year to pressure the Trump administration to turn over documents detailing President Donald Trump's ties to Russia, as well as conflicts of interest stemming from his business empire. T
hose 18 republicans are arrogant hypocritical cowards. they are themselves in collusion with Russia and their hacking. and the hypocrisy is so disgusting. If clinton had won they would never stop to somehow investigate that she was helped by Russia and a russia spy. I hope we take them all down. because the GOP no longer has any moral center or purposed.
(6)>>Trump and Russia.
Folks it sounds like a satire The Onion should publish
.
After
Donald Trump's meltdown accusing President Obama of spying on him
Saturday morning, the entire political world is up in arms, including some Republicans.
Not
only does a president not order wiretapping
, but national Republican political strategist and media consultant Rick Wilson reminded President Trump this morning that the wiretapping was hardly a secret, the FBI was granted a FISA warrant in October covering Trump's ties to Russia