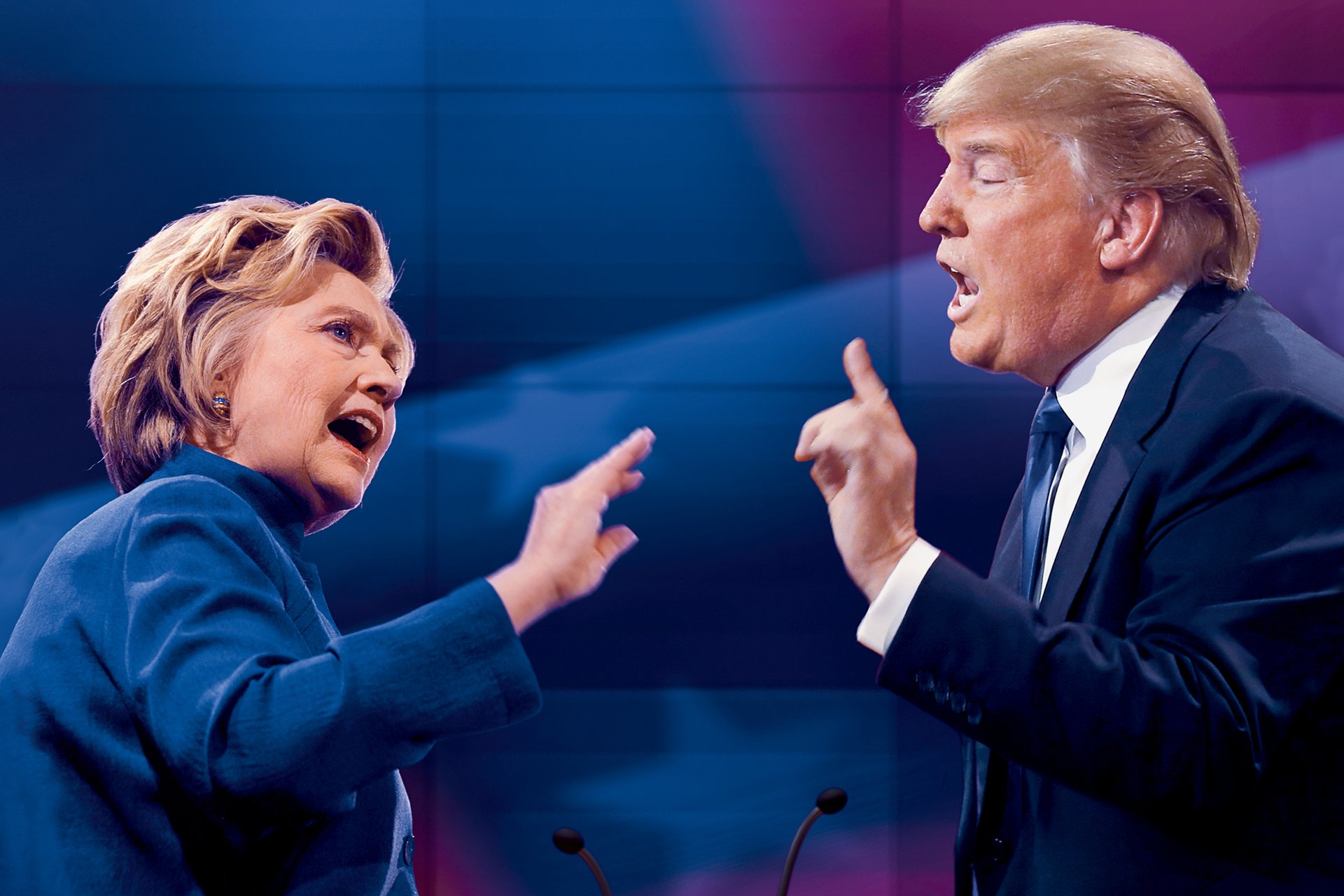 The debate was really more wild
than I expected . Yes, Hillary
won the first debate .
The aftermath of the debate , I had to weigh in,
So here is my "review'. .
The debate was over before it started. I was hoping for as in my last post that Trump would get a "hard line " with Hillary . It looked like he squeaked like a mouse , while Hillary took center stage with calmness & professionalism , that in my last post I was expecting an exasperated Mrs. Clinton . I guess that maybe Mr. Trump the previous night had a few drinks , because he was caught way off guard than his, usual rhetoric fizzed .
First Mrs. Clinton won that first debate . There is no objection to this Trump looked like lost nerve .
Trump being on the defensive and circling back to his weaknesses doesn't do him any favors.
Yea the word "lost" is also vary imprinted & disappointing . Hillary on the other hand was all smiles , she also had a rather pissed off look as every time Trump spoke , she would glance at him , by her "eyes" you can tell she probably could not stand some of his obnoxious remarks . One of them that got Trump in a predicament was
(1.1)>>the "birther" issue
. Trump blew it when he "admitted" it just prior to the debate that President Obama was born in the USA Hawaii .
So it took him "years" just to say it .
Politically it was a bad idea .
It WAS A BAD IDEA from the START
. Mr. Trump got involved in the birther movement just about the time Obama was elected . Mr. Trump fed the birther movement , helped fuel the failed Tea Party , and on national TV in several interviews .
First, in 2012, Trump said he'd donate $5 million for that proof.
he offered to give huge donations to charity in exchange for hard evidence that proved President Obama had been born in the U.S.
The deadline of that original offer was Oct. 31, 2012. At the time, Obama had already released
his "long-form" birth certificate
, showing he had been born in Hawaii. But Trump wanted more.
Two years later, Trump described his 2012 offer in a speech at the National Press Club. Trump said that, at the last minute, he had actually upped it to a whopping $50 million.
"Now then, what wasn't reported by the press is, sometime just prior to the expiration date of that offer, I raised the offer to $50 million. $50 million! For charity,' Trump said in 2014. "Pick your charity, for $50 million, and let me see your records! And I never heard from him." Meanwhile you could not take your eye of the facial expressions of
Hillary showed the best face expressions
while Trump blasted away .

both of them
As soon as they shook hands to start the debate, Clinton pivoted away from Trump to give herself "some of the attention,"
Trump, however, tried to show he was the top gun by patting her on the back after the handshake.
"After he shakes her hand, he taps her on the back and that says, 'hey, I am the powerful one, I am in control. I decide when this handshake ends.'"
Trump's facial expressions sure let his feelings be known when Clinton was speaking.
"His eyes are squinted a bit, which is not typical for him. He is listening. His lip purse shows uncertainty and disagreement," Mrs. Clinton looked alive , while Trump looked tight .
Hillary was doing her best to not laugh out loud
after Trump accused her of lacking "stamina" . That part of the debate was my favorite part .
He said ,
"She doesn't have the look. She doesn't have the stamina. I said she doesn't have the stamina. I don't believe she does have the stamina," Trump said, when moderator Lester Holt asked him about a past comment that Clinton lacked a presidential "look." "You have to be able to negotiate our trade deals …I don't believe that Hillary has the stamina." I am assuming that
" I have nothing
to hide ..."

Trump had really bad talking points when he said this , Hillary looked healthy , she gave Trump a little tip on stamina .
Clinton responded that she had traveled to 112 countries as secretary of state, and negotiated trade deals and other agreements. If Trump did that, she said, "He can talk to me about stamina."
There
was a particularly hilarious moment because Trump spent many moments in the debate trying to interrupt Clinton or saying things like "No" or "Nope" while she was speaking, making it clear that he was struggling to keep his composure during the debate. He somehow kept his facial expressions relatively subdued, but he couldn't manage to fight facts with facts. Instead, he often fought facts with "Well, that isn't true!" when (1.2)>>
Clinton said that he supported the war
in Iraq, or "I'll release my tax returns when you release your emails," even though the two have nothing to do with each other and the former is required of presidential candidates.
During the September 26 presidential debate, moderator Lester Holt insisted that it was a proven fact that Donald Trump supported George W. Bush's war in Iraq before Trump was against it.
Holt insisted that GOP nominee Donald Trump "had supported the war in Iraq before the invasion." This is the most confusing part of
She has a lot to smile about.
If Trump keeps this up.

Trump's flip flopping over the decade . Yes he is right that invading Iraq was a mistake , but regardless what he said then and now he should have articulated it better . Honestly I think Trump is a product of "right wing brainwashing"
yet he seems so indoctrinated in the propaganda , its not the same Trump of 20 years ago , that sounded like a liberal , but Trump has now been made a puppet , and a good one. If he just a puppet then he is just a stand in to wrench the Republican party for Hillary .
Hillary Clinton was deemed the winner of Monday night's debate by 62% of voters who tuned in to watch, while just 27% said they thought Donald Trump had the better night,
according to a CNN/ORC Poll of voters who watched the debate
. Keep in mind this is the first round , Hillary won this one , but Trump has a few more chances.
Clinton helped her cause on that front in the debate, in part thanks to Trump injuring his own.
NOTES AND COMMENTS:
(1.1)>>the "birther" issue
.
The Birther Issue was originally stared in Kenya by the Kenyan government rather than Hillary or Trump . So we need some dirt digging here . Trump played the piper with this issue for years , so now he declared ;

"Hillary Clinton and her campaign of 2008 started the birther controversy," Trump said,

which is untrue

. "I finished it. I finished it. You know what I mean. President Barack Obama was born in the United States, period. Now we all want to get back to making America strong and great again."
From the start of March 2008, rumors that Obama was born in Kenya before being flown to Hawaii were spread on conservative websites, with the suggestion that this would disqualify Obama from the presidency. In April of that year, anonymous e-mails from supporters of Hillary Clinton repeated the same rumor,
While President Barack Hussein Obama
made a big show of proving that
he was born in the United States,
Kenyan tourism officials are making
a big show of Obama's birthplace—
the village of Nyang'oma Kogelo, just outside the
Kenyan city of Kisuma. ??? yes you read it "Obama's Birth Place"
When questioned by American reporters, Kenyan
officials say with a wink that "of course"
Obama was also really born in the U.S.—
a legal requirement for any U.S. president—but
Obama's numerous cousins, half-brother, aunts,
uncles, and grandparents disagree.
When tourists make a pilgrimage to Obama's
home hamlet, where the U.S.'s first half-black
president is adored as a saint, they meet
Obama's relatives, like his step-grandmother
Mama Sarah and worship at the grave of Obama's
father, an alcoholic who drank himself to death
.
Whether Obama having been born outside the U.S. would have invalidated his U.S. citizenship at birth is debated.
Political commentator
Andrew Malcolm, of the
Los Angeles Times
, wrote that Obama would still be eligible for the presidency, regardless of where he was born, because his mother was an American citizen, saying that Obama's mother "could have been on Mars when wee Barry emerged and he'd still be American." see this URL
( http://latimesblogs.latimes.com/washington/2009/06/barack-obama-birth-certificate.html )
The infamous "Grandmother Tape" has long been debunked, but it won't go away. Sarah Obama (step-grandmother, not aunt) never said Obama was born in Kenya, that she held him, or that he was born in Mombasa, and she never signed any affidavits sworn or otherwise. She said repeatedly that he was born in Hawaii, in the United States. You can listen for yourself. (
Audio opens in new window
.) The birther controversy ends with this silly note from Obama's Kenyan half brother , back in July this year he brought a obvious twist to the birther story . Obama's brother Malik had this to say :
"This Trump guy is a really cool guy and I like him because he speaks from his heart and he is so down to earth," Malik Obama told AFP by phone from the western Kenyan village of Kogelo, from where the pair's father's family comes from.
"Trump is so much concerned about security and he wants to make America great," added Obama, who has both Kenyan and US citizenship and says he has voted in US elections since the 1980s.
"The guy speaks from his heart and you can see he is very honest in what he says. He speaks what he thinks. It is not like someone is prompting him," added Malik Obama. ( see complete reference ; http://www.breitbart.com/news/im-voting-trump-says-obamas-kenyan-half-brother/ )
(1.2)>>
Clinton said that he supported the war
.
Moderator Lester Holt called out Donald Trump on the Iraq War in what became one of the
first debate's most devastating moments
for Trump. Tens of millions of Americans watched Trump squirm as he tried to explain how he was against the war, when he'd publicly said he was for it.
So naturally,
Fox News
decided to do damage control after the debate, publishing an article that claimed "history backs The Donald" on opposing the Iraq War. As proof, the network pulled up a January 2003 interview with Fox host Neil Cavuto, which Trump had mentioned as proof of his opposition during the debate. (see CNN interview https://www.youtube.com/watch?v=33WrJfbKkiQ )