One of Oscar Wilde Tales is the story about a
(1)>>Prince
who had got every thing in his life. He had not seen any sorrow in his life. He helped his people whatever he could."The Happy Prince" tells about the statue as the icons of the city , many residents that use the statue as role model for their life or just pride for them . The statue was covered by thin leaves of fine gold, he had two sapphires in eyes and a large red ruby glowed on his sword. The statue was once a prince , when he is alive was always smiling and knows no tears that's why called The Happy Prince. The shows were intimate and intense, 43 songs, and a range of covers from Bowie to Bob Marley. Prince, all alone on stage at a purple grand piano, started with Little Red Corvette and ended his second set of the night with a Purple Rain medley.But as soon as the sets were done, Prince was off. No after-party. No jam. He went directly to the airport to board a jet home – the same jet that would make an emergency landing two hours later with Prince apparently overdosed on an opiate painkiller and requiring a lifesaving safe shot of Narcan.Within a week, he would be dead –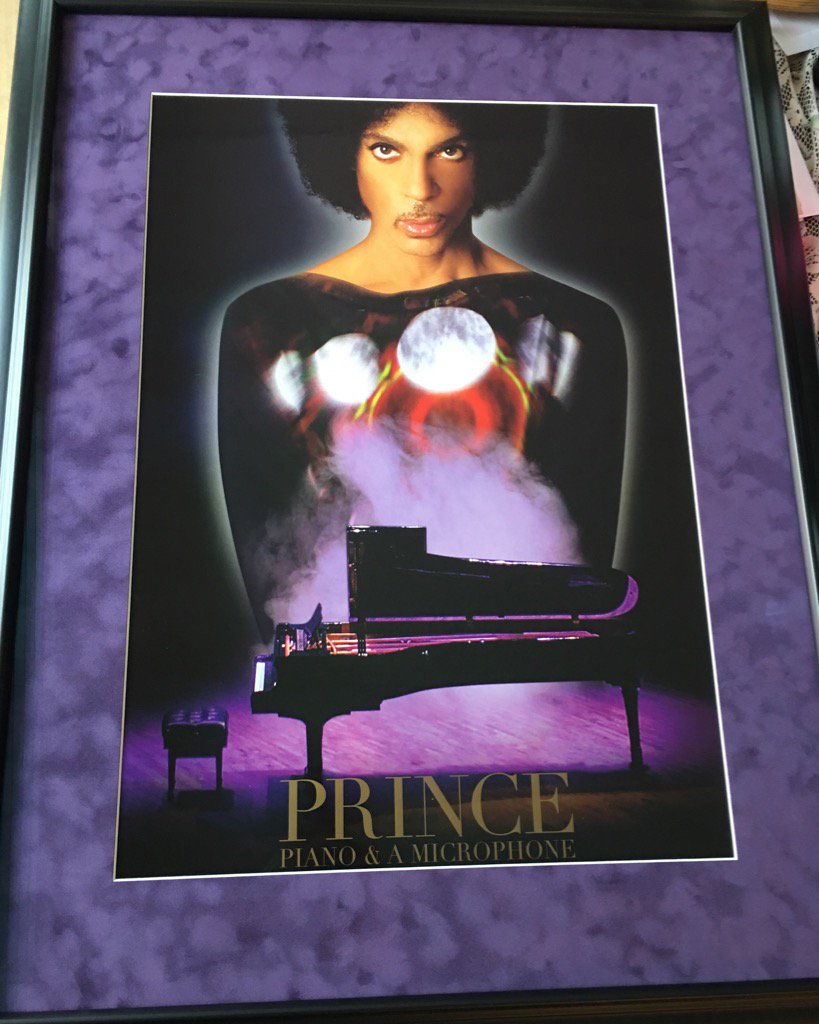 There is a bit of a troubling irony here , it seems that Prince made his way out in exactly the same way (2)>>
Micheal Jackson
did . The "drugs" involved ( according to each media reporting) were prescription pain killers
Since recording this pod-cast, the flu stories have been superseded by reports that he was a victim of AIDS no less.
Its way too similar of circumstance .
Detectives have reportedly launched a murder probe into
P's
death
.
Police are said to be looking for doctors or "handlers" who treated the star as friends fear he may have been over prescribed ( Like Jackson ) drugs
.
Police in Minneapolis have refused to rule out a criminal homicide charge, according to the
Daily Star.
"A crack team have been assigned with learning minute by minute what Prince was doing during his final days. But the investigation will also look into his activities over the last two years,"
a police source told the newspaper.
It remains unclear what caused Prince, 57, to become unresponsive on the flight last week. His publicist has attributed the crisis to the fact that the entertainer was "fighting the flu."
But officials investigating Prince's sudden death said Friday that the plane's emergency landing, and what caused it, would be part of their sweeping inquiry.
Prince spent only a few hours at a Moline hospital before his private jet flew home here, and the entertainer resumed life at his compound in nearby Carver County. Just days before his death, he attended a show at a local jazz club, and playfully showed off his new piano and guitar at a party at his studio. However there are puzzling problems,
His heirs decided to cremate him the day after his death. What are they hiding?
His final Instagram post, published a week before his death, contained the message "
Just When You Thought You Were Safe
". Was this message a reference to the record industry hell hounds on his tail, an enemy he had spent his life fighting? To make matters even more suspicious, the caption on this Instagram post was mysteriously deleted after his death.
A Prince "conspiracy"?
While theories abound . Prince's death
may have been linked to
his Protege Vanity , who
passed away this February.
The craziest so far has got to be from
Alex Jones
over at Infowars. Jones believes that Prince may have been the victim of a government conspiracy. The reason? His outspoken opposition to the phenomenon known as (2.1)>>
chemtrails
..
Prince was a hardcore conspiracy theorist who believed that commercial aircraft exposed the world to harmful chemicals that causes harmful effects to people mentally, physically, and emotionally,
Vocative
reports. (3)>>
Prince sang about chemtrails in his 2003 album song, "Dreamer." While Prince was speaking during an interview on the

Tavis Smiley Show

, he revealed that his inspiration to write that song was from Dick Gregory, a civil rights activist.

.
Conspiracy theorists were quick to raise question over the Purple Rain singer's death just hours after the shock news filtered through.
Speculation is rife among the online alternative news community claiming the Minnesota-born legend – born Prince Rogers Nelson – was an advocate for conspiracy theory culture.
Prince is claimed to have predicted the September 11 terrorist attacks THREE years before the tragedy, spoken out about chemtrails and may have warned fans of his impending death.
An eerie 1998 gig recording online suggests the star chillingly predicted the atrocities in New York and Washington in 2001.
Al-Qaida and its demonic leader Osama bin Laden claimed responsibility for the worst attack on US soil in history.The clip, which is said to have been recorded at the his show in Utrecht, the Netherlands, on December 23, 1998, includes a spine-tingling extract.
He sings: "I got to go back to America. I got to get ready for the bomb.
"
Osama bin Laden, get ready to bomb.
Was it the chemtrail flu that took Prince's life? What exactly is the chemtrail theory? Back in the early 1990s, people started to wonder if the contrails that follow planes were actually chemtrails. Chemtrails are known to be chemicals exposed in the air to pollute the world in order to change the atmosphere and slow down global warming.
Gizmodo
reports that some people claim to become sick after seeing chemtrails.
Prince was a very active speaker in regards to chemtrails. He often became involved with conspiracy threads and even spoke about chemtrails openly on television. Prince has multiple songs that refer to the chemtrail conspiracy.
It was recently revealed that Prince had posted a picture on Instagram last week that captioned a cryptic message, "JUST WHEN YOU THOUGHT YOU WERE SAFE…". You can see the original Instagram post
here
, but the caption has since been deleted! Conspiracy theorists believe that this may be a warning to all of us from Prince, himself.
Contrails typically fade away within minutes, whereas chemtrails tend to linger for long periods of time, according to
Chemtrails 911.
Antonio "L.A." Reid is calling
Prince
's untimely
death
on Thursday (April 21) "mysterious," telling
Today
that the singer was completely healthy prior to his passing.
The CEO of Epic Records went on the morning talk show on Friday (Apr. 22) to remember the Purple One, reminiscing about his good friend.
"I spent the day yesterday just listening to Prince, and for whatever reason, it sounded even better. What a great guy … I've always said it: The greatest at everything: playing, writing, composing, fashion, everything. [He had] the masculinity of Teddy Pendergrass, but he could take your girl [while] wearing high heels."
But things aren't what they seem, Reid said, and he suspects something fishy with the whole situation.
"The thing that really bothers me about it is the Prince I know was like super healthy... vegan, wasn't an abuser of drugs, wasn't an abuser of alcohol, you know. He lived right, and he was clean. He looked young, he looked really healthy and vibrant. So the whole thing is really mysterious to me."
PRINCE AND THE OCCULT ?.
Prince's new "name" has eluded many,
but obviously its easy . It's the
Ankh symbol super imposed on the


The two standard sex

symbols


enoting

male

♂ and

female

♀ are derived
To some, the

Prince

was an

enigma

not worthy of praise even while hiding behind the (4)>>Jehovah Witnesses

and

Bible

. Prince's music started out in the 80's , as I remember since I listened to that music,that it was saturated with the occult , some of it New Age ,
studying occultism
, there is an idea concerning the creation of a magical personality. This is what Prince steps into when he becomes the globe-trotting superstar. It allows him to manifest his will and at the same time affects how people respond to him. He essentially makes everyone adjust to him. It sounds like during basketball he drops this persona.
Prince changed his name (this was brought up in a different interview) due to contractual obligations. In his 1998 interview with Tavis Smiley he spoke of listening to his spirit concerning the name change. At the time he had no idea that it would help lead him to the freedom from his contract. In occultism this is called following your true will, and Prince verified the philosophy by then stating that acting from this place allows you to further reach enlightenment.
Prince
was one of Jehovah's Witnesses ??- an often misunderstood religion. His death has led to countless rumors
,
debates and outright lies about his religious beliefs. Numerous tabloids,
celebrity
gossip sites and media outlets are reporting false information derived from questionable sources or ill-informed individuals, which has led to wild speculation and heated debates among Prince's many fans.
Many of Prince's fans find it difficult to reconcile his
Jehovah's Witness beliefs
with the sexually explicit songs from the 80s and early 90s which comprised much of his early career. However, as
NPR
,
Yahoo News
and others point out, it's important to note that after Prince became a baptized Jehovah's Witness in 2003, he eliminated his X-rated songs from his concert playlists, and ceased writing sexually-charged songs.
Prince was heard telling the crowd at a concert days before his plane made an emergency landing, "Wait a few days before you waste any prayers." People will harp on the fact Prince was known as a Jehovah Witness, but this was not the case in the earliest parts of his career.
Prince, one of the biggest names in rock history, and a very strange young man. Prince helped change the nature of romantic lyrics in pop music—
I also find it very disturbing and suspicious that Prince's protege' (
Strangely enough Prince "died" at 57
.)
(5)>>Vanity died a few weeks earlier at the same age as Prince…..57. Prince also died exactly 66 days after she did.
Also in the above 1995 interview, she explains that as a result of this religious experience, she completely left the Industry created persona 'Vanity' and broke free from the industry. She was even embarrassed when looking back at her industry persona 'Vanity'. Denise became a born again Christian again and began to spread His word by speaking at churches around the world without looking back. CLEARLY I suspect Prince may have committed suicide taking a over dose of drugs . Was he secretly remorseful ? His twitter messages do indicate it. Here is one last connection to this whole story . Back in February of this year ,
Prince revealed his personal side during a solo performance in Melbourne , when he dedicated songs to his ex-girlfriend who recently died.
The 57-year-old told the sold-out crowd at the State Theater on Tuesday that he had just heard about the death of former protégé Denise Matthews, aka Vanity, according to the
Herald Sun
.
She later fell into crack cocaine addiction, but recovered and became a born-again Christian after a kidney transplant in 1997.
Variety
claimed she reportedly died of kidney failure aged 57.
Prince was raised a Seventh-day Adventist, a small but significant Christian denomination.
1
It's hard to believe that while Prince was coming up, selling millions of records, and singing X-rated lyrics about one-night stands and sexual positions, that he was that devout a Christian. But that all changed when, in 2001, Prince converted to Jehovah's Witness.
2
He has even admitted to proselytizing, that is, knocking on random doors to hand out
Watchtower
magazine and preach his faith.
Now, Prince is all into Christianity and isn't afraid to show it. He seems to have changed directions and now preaches the virtues of a moral life, contrary to most of his song lyrics. He has said:
When I look at the violence, I wonder where the parents are, but also where is God in their lives? A kid is an open computer ready for programming. Some weird relationships happen, smoking too early and sex.3
Ironically Prince was all alone when he was found . A man who surrounded himself with sexuality , women , and the party life in the end he humbled himself to his god .
NOTES AND COMMENTS:
1)>>Prince.

One of Oscar Wilde Tales

is the story about a

Happy Prince.

who had got every thing in his life. He had not seen any sorrow in his life. He helped his people whatever he could.

More than a hundred years ago, Oscar Wilde created this moving story for his children. Now shimmering illustrations, as bejeweled and golden as the Prince himself, give glowing life to the many dimensions of his tale. His story of friendship, love, and a willingness to part with one's own riches may be more important today than ever before. Perhaps this was no fairy tale .

Rogers Nelson

(June 7, 1958 – April 21, 2016) changed music , created careers of so may other artists

Prince supported Rebuild the Dream, a mobilization of hundreds of thousands of everyday people—from seniors to students, moms, dads, brothers and sisters—who come together to build strong vibrant communities and to fix our economy from the ground up.

In 2011 he donated $250,000 to Eau Claire Promise Zone, a citywide grassroots coalition of community partners committed to doing "whatever it takes" to ensure all of the city's children are prepared to graduate from college and be successful in their career and in life.

As a Jehovah's Witness, Prince did not speak publicly about his

charitable

endeavors. Nonetheless.

(2)>>Micheal Jackson.

The parallels with Michael Jackson's death are astonishing. Who will wrest control of Prince's enormous back catalogue now he is dead? Will Warner Brothers buy the rights to his music from his heirs in a cut price deal, the same way Sony got their hands on Michael Jackson's catalogue after his death?And who gets control over the thousands of unreleased songs in his vault? It has been suggested by music industry sources that his songs could be used for the next hundred years by manufactured, replaceable, corporate-enslaved pop stars

.

Prince was taking strong painkiller Percocet to combat chronic hip pain before his tragic death, it has been claimed.

Percocet contains a powerful opiod, addictive painkiller oxycodone and paracetamol and has been linked to the deaths of Michael Jackson and Philip Seymour Hoffman

.

(2.1)>>

chemtrails

.

But are chemtrails real?

"If you go outside on a clear day and look up toward the sun —being careful to block out the bright disk with your thumb — you might see a hazy white region surrounding our star," the Smithsonian Magazine

revealed

. "This haze is caused by airplanes, and it is gradually whitening blue skies, says Charles Long of NOAA's Earth System Research Laboratory in Boulder, Colo."

"We might be actually conducting some unintentional geoengineering here,' Long said at a press conference this week at the American Geophysical Union Fall Meeting in San Francisco."

In other words, chemicals added to airplane fuel are dispersed from the plane's exhaust into the atmosphere – and eventually find their way to the ground, which may explain why some farmers are discovering increased aluminum content in the soil.

"As a contrail dissipates, it leaves behind a thin, icy haze," the magazine continued. "The sky may appear cloud free, but the particles are there until they fall out of the atmosphere, and while in the sky, they scatter the sun's light in a similar way as in the proposed geoengineering projects."

(3)>>

Prince sang about chemtrails

.

Princes death and the death of Merle Haggard, another singer speaking truth to the Chemtrail issue. The second article reviews health effects of Geoengineering, include so-called

Chemtrail Flu

.

At this stage, we can only speculate on what might have happened, but in the process, we can review the evidence already available to infer that something insidious is definitely happening in our world. Chemtrails are not normally and are one of the more obvious

red pill

topics for awakening others. The sleeping masses will be more willing to consider the realities of Geo engineering now that Prince and Haggard made light of them.

(4)>>Jehovah Witnesses.

Are a "cult",

Charles Taze Russell

(1852 –1916) that founded the

Jehovah Witness

or

Watchtower Society

rejected much of the Christian faith and claimed, as

Ellen G. White

had claimed before him, that he was "

restoring

" the true Christian faith.

Jehovah's Witnesses consider themselves to be Christians, as pointed out by the

Los Angeles Times

, since they strictly follow the teachings of Jesus Christ, and offer prayers in Jesus' name. But despite this, Protestants, Catholics and other religions, insist that Jehovah's Witnesses are not Christians because they do not believe in the "Trinity."

Jehovah's Witnesses believe that God (

whose name is Jehovah ?

) and Jesus are separate entities; that as clearly stated in the Bible, Jesus is Jehovah God's son; and that

neither one is part of a trinity

." Jehovah's Witnesses also believe in the "holy spirit" but believe it to be God's active force rather than a separate entity, or part of a trinity.

(5)>>Vanity.

In the mid-Nineties, Vanity became a born-again Christian, after overdosing on crack. The experience led her to evangelism. She would go on to write the memoir

Blame It on Vanity

about her experiences, and she led her own Pure Heart Ministries in Fremon

t.