It's NOT just the "water" that's a
problem in Michigan .
Last year if I recall while thumbing through records
(1)>>
California's state government made its final interest payments on 2004 deficit bonds, payments that have averaged more than $1 million a day.
That's $1 million a day, every day, for 11 straight years!
It's a sobering statistic that speaks volumes about California's decade of deficits — a decade that saw billions more in both painful and gimmickry-laden fixes, a fair amount of national ridicule, and enough voter anger to prompt the historic firing of a governor before the end of his term.(1.2)>>
When Detroit
filed for bankruptcy on Thursday
, the reactions came fast and furious.
But there's no longer any dispute that the Motor City is on the brink of ruin, and as Detroit
battles its way through bankruptcy court
, the estimate of what it actually owes its creditors keeps rising, to more than $18 billion.
Not only has Detroit failed to keep its promises to creditors, but its residents have borne the brunt of the city's fiscal crisis, and been forced to accustom themselves to sub-standard services. In Detroit, business as usual means buses that take forever to show up, street lights that won't turn on, garbage that doesn't get picked up, ambulances that break down, police that never arrive, crimes that go unsolved.
Detroit's "true" Race-card story.
Visiting Detroit is the closest Americans can come to viewing ( perhaps future conditions around the nation) what appears to be a war-torn city without leaving the U.S. This former powerhouse is a barren stretch of land, devastated by looters and and full of run-down, vacant houses. Rows upon rows of dilapidated structures line the streets; empty apartment buildings and factories consume the landscape. Almost a third of Detroit has been abandoned.(2)>>African- Americans
are by far the largest racial or ethnic population in Detroit, which has the highest percentage of black residents of any American city with a population over 100,000. Eighty-three percent of the city's 701,000 residents are black. It continues to be an underreported story that a white state legislature and white governor took over the city and forced it to file for bankruptcy against the will of its elected representatives. It is also underreported that white governors and the white state legislature failed to provide Detroit with its fair share of state tax revenues – a significant contributor to the city's current financial distress.
It's important to view what is happening to Detroit and its public employees through a racial lens. The fact that nearly 1.5 million whites left Detroit over the last half century as its African American population grew is the single biggest reason for its current distress. As the wealthier white population left Detroit, the overall population shrank and the city's tax base shrank, too, leaving Detroit less able to support public schools, public safety, and its huge, geographically spread-out infrastructure. Corrupt mayors or antagonistic mayors are a sideshow compared to the gigantic outmigration of whites that began in the 1950's and turned Detroit from a wealthy white city into a desperately poor black city.
Detroit's education in shambles.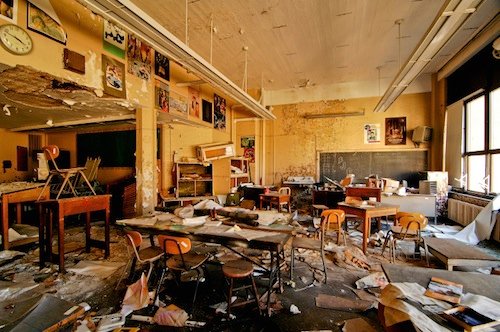 Creepy looking picture of one of the many
"abandoned" public school buildings
in Detroit . Zombies any one ? lol!
Worse yet
Traditionally, the Tuesday of the first full week of May is the National Teacher Day in the USA. But it seems some teachers in Detroit won't be celebrating with their students.
For the second day in a row, the (3)>>Detroit Federation of Teachers is calling for "sickouts" at city schools. Monday's protest closed all but three of Detroit's 97 schools in the district, keeping most of the 45,000 students home. There are more than 3,000 teachers in the district and about 1,500 called in "sick."
Images of fungus growing on classroom walls, rat droppings littering hallways, and bullet holes set off a
mass teacher "sickout
" that closed nearly all of Detroit's schools.
Detroit's Public School system is deep in debt and teachers were told by their union Saturday the school system only has enough money to pay them through June 30. Because some school employees can have their pay spread out over the entire year rather than the entire school year, they've already started working for free, the Detroit Federation of Teachers says.
What's going on with Detroit schools? As Flint endures an environmental catastrophe with its water crisis, the Motor City's school system is suffering from a financial crisis and will not be able to make payroll.
The Michigan legislature is considering laws to address the debt, overhaul the schools and return them to local control. The school system, which has been under state control since 2009, has $515 million operating debt and total debt over $3 billion, and cannot afford to take on additional loans. Teachers have held sickouts and filed lawsuits to highlight the problems of black mold, vermin, mushrooms, freezing and boiling-hot classrooms, and crumbling school buildings, all in an environment where students are supposed to learn.
Now, six years since emergency management took hold of Detroit's beleaguered school district, there have been four different emergency managers, and financial concerns are even more extreme.
At the end of the
2008 fiscal year
, the net deficit was $369.5 million,
according to the Detroit Metro Times
. That was the last year the publicly elected school board had control over DPS.
For the 2015 fiscal year, the
net deficit had exploded to $1.66 billion
. About $900 million of the nearly $1.7 billion deficit is related to unfunded pension liabilities, a new balance-sheet item.
Republican Reproach on it's citizens .
Michigan Gov. Rick Snyder, a
Republican not so happy
these days.
(4)>>Michigan Gov. Rick Snyder again apologized for the Flint drinking water disaster a 2 month's ago. I am a bit curious as what no one in Michigan did not do a state "recall" of this Governor ? You'd think that the people would be more powerful enough to force him out.
Michigan Gov. Rick Snyder should resign . It's a disgrace how the state of Michigan is being pulled into oblivion .
Democratic presidential candidate Hillary Clinton opened up the debate
.
by joining her opponent, Sen. Bernie Sanders, in calling for the removal of Michigan Gov. Rick Snyder.
"The governor should resign or be recalled, and we should support the efforts of citizens attempting to achieve that," Clinton said to loud applause early in the two-hour debate.
It was the first time she had called for Snyder's removal. Sanders has
several times called on Snyder to resign
.
Snyder has repeatedly resisted calls for his resignation and says he wants to stay on and fix the problems caused by lead contamination of Flint water.
Rick Snyder has irretrievably lost all credibility.
When 600 likely Michigan voters were asked to rate the Governor's job performance on how he has handled the lead-contaminated water problem in Flint, 75% gave Snyder a thumbs down! Only 20% felt he was doing a good job, and 5% were undecided. In January, Snyder's negative rating polled at 69%.
He also received an increase on the question of "do you think Governor Snyder should resign?" Forty-one percent say he should step down. That's up from 29% who said he should resign in January. But in the most recent survey, half of the respondents, 50%, believe Snyder should stay in office and fix the problem.
The Governor's overall job performance numbers also took a hit. Sixty-nine percent don't like the job he is doing running the state while 29% approve of his leadership. Only 2% don't know how they feel. In January, 58% gave Snyder a negative rating.
For Snyder and other state leaders, it means facing some uncomfortable truths about Michigan's future, and taking steps that might not always be popular in the short run. More money for education, starting with toddlers' first steps and continuing until they walk across a stage with a college diploma. More money to repair and replace our crumbling roads and bridges over which new business and new residents must travel. More of a willingness to invest in the present, to stave off a Dickensian future.
NOTES AND COMMENTS:
(1.2)>>
When Detroit.
Decades ago, no one would have ever dreamed that Detroit would one day become the epicenter of American decline. The birthplace of the American car industry, with the highest median income and the highest rate of home ownership in the 1950s, now appears to be a city devastated by destruction. Unfortunately Detroit's decay may only be the beginning: as the United States continues to take on debt let manufacturing fall by the wayside with an increasing push for more "free trade," Detroit may not be the only "war-torn" city in the U.S. for long.
(1)>>
California's state government.
Strange as it seems the Detroit budget is equal or greater to the entire past California budget deficit . California hit bust state wide in 2003 at 20 billion in debt . Here if we compare with one US city like Detroit it's deficit equals almost the same amount .
In 2003, California was recovering from the dot-com boom/bust that lingered here in California longer than in most places. Today, of course, we're suffering from the Great Recession, a much worse economy, the worst since the Great Depression. America possibly is headed into the second "dip" of a double-dip recession.
When Schwarzenegger replaced Davis, the state budget deficit widely was reported as $38 billion. But as Spinsanity
noted at that the time
, the number was exaggerated:
Whatever one's view of the budget deal, the $38 billion deficit no longer existed once the legislation was signed, and the relevant state budget figure became a projected $8 billion deficit for 2004-2005.However, politicians and pundits, either through ignorance or intentional exploitation of voter confusion, routinely repeated the $38 billion figure. Schwarzenegger made a number of references to the $38 billion deficit in the present tense, as if it still existed. For example, on August 7, a week after the budget deal, he said, "We have a $38 billion budget deficit that we have to deal with."
By contrast, the current deficit under Gov. Schwarzenegger for the un-passed fiscal 2010-11 is
$19 billion
. So, during his term in office, the governor has doubled the deficit he inherited from Davis.
(2)>>African- Americans
are by far the largest racial or ethnic population in Detroit.
The 'mystery' of Detroit has people continuing to grasp at straws with a reality they can't seem to confront. Whether it's the liberati-types of MSNBC sneering that Detroit is a "libertarian paradise"
.
Since April 2014, residents of Flint, a city that is almost
57 percent black and incredibly poor
, have been drinking and bathing in water that contains enough lead to meet the Environmental Protection Agency's definition of "
toxic waste.
"
According to the latest state data, more than 15 percent of Detroit's adults have asthma, a 29 percent higher rate than the rest of Michigan. Detroiters are hospitalized for their asthma three times more frequently than other Michiganders. Being black ups the rate significantly: Black Detroiters are hospitalized for asthma at a rate more than 150 percent that of their white neighbors—and Detroit is 83 percent black. Most of the mini-cities ringed around the heavy industry south of Detroit are majority-black too. Poverty compounds the problem—it's not easy managing a chronic illness when you're making $24,000 a year, the average household income for black Detroit households.
(3)>>Detroit Federation of Teachers is calling for "sickouts".
Detroit teachers sick of working in appalling conditions called in sick in huge numbers in the last few weeks , forcing nearly all of Detroit's public schools to close.
Teachers have been using rolling sickouts in recent weeks to spotlight the poor conditions of dilapidated schools. Many say they're also concerned about stagnant wages, super-sized classes and Gov. Rick Snyder's controversial plan to divide DPS into two, creating a new debt-free school district.
Detroit's students are trying to learn while breathing in black mold and sitting in classrooms filled with buckets catching toilet water leaking through the ceiling. And that's not even the worst part.
Republican Governor Rick Snyder is not only using the financial emergency management laws to poison children in Flint; he's doing the same thing in Detroit via the public school system, which the state has controlled for the last seven years. Darnell Earley, the same emergency manager who oversaw the changes in Flint's water system, is currently in charge of Detroit's public schools.
Detroit Schools are so cold in the wintertime that
students expect to have to wear their coats in the classroom
, and those same students attempt to learn in the midst of heat exhaustion during the hotter months.
Students are forced to learn in the midst of black mold — where crumbling walls, floors, and ceilings drip rain on their heads and electronics. Their bathrooms are broken, and the drinking fountains are scarce. Mushrooms are literally
growing from the walls
. There is a mustiness in the air and people are getting sick, coming down with headaches, and finding it difficult to breathe.
(4)>>Michigan Gov. Rick Snyder again apologized.
The "crisis" in Michigan makes Gov. Snyder a "scumbag" literally . He's so detached from reality as a governor he has left the Michigan people in a crisis larger than anticipated.
It's a classic case of government dropping the ball at all levels -- from city to state to federal officials -- said Steve Mitchell, a Republican political consultant and pollster in Michigan.
And if there's a textbook for how leaders should respond in crises that cast their leadership in doubt, Snyder appears to be following it. He has publicly apologized twice,
"I'm sorry, and I will fix it," Snyder said near the opening of his 50-minute speech, directly addressing the residents of Flint, according to the
Detroit Free Press
:. "You did not create this crisis, and you do not deserve this.
"We need to make sure this never happens again in any Michigan city."