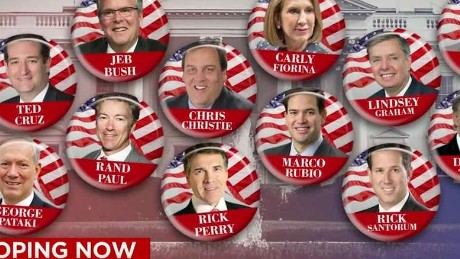 So it begins , the GOP first round of debates between contenders .(1)>>
The debate also offered an opening for the candidates to go after President Barack Obama, the attacks were aimed against Donald Trump , Hillary Clinton and most of all Mr. Obama .
The race to become the next Republican presidential nominee kicked off Thursday with seven bottom-tier candidates taking the stage at a sports arena here for the first debate of the 2016 election season, sponsored by (2)>>
Fox News
( right wing media ). (***)>>
Seven low
-polling Republican candidates all needed to create a breakout moment in Thursday night's early,
under card
Republican debate.
After 80 minutes, it wasn't clear if any of them had
achieved
their goals . I have to say I am not to happy with any of the GOP
candidates
, they are all weak looking .
They don't have any answers , they still don't have anything to offer as a "Obama alternative " .
Even though the economy is way ahead of where it was four years ago,
Americans aren't happy. Half of the country flat out disapproves of how the president is handling the economy, according to recent Wall Street Journal/NBC
poll
.
Even more alarming is the return of pessimism. Take a look at Gallup's U.S.
Economic Confidence Index
. It's measured weekly, and the first August reading is negative -- the lowest since last October.
Americans don't feel good about their pocketbooks, yet the campaigns don't seem to get it yet.
Part of the reason (3)>> Donald Trump is doing well is because his campaign slogan -- "Make America Great Again" -- is shaping up to be 2016's version of Barack Obama's "Hope."
Trump will take center stage at the main event. It will be unfamiliar territory for Trump, whose early strength has both stunned -- and aggravated -- establishment Republicans.
It has connotations of a better future on a lot of levels, but especially for your pocketbook. It also doesn't hurt that he's run some successful businesses and presents a vision of making it in America.
As the debate wound down, the moderators asked the candidates to handicap Clinton. The unflattering answers included "not trustworthy" and "secretive."
H
owever, was not the format but the absence of the race's current frontrunner. Donald Trump, currently leading virtually all polls of the GOP field, skipped the event and the participants largely avoided any reference to him.
Truth is, probably none of these candidates can do much to "bump" themselves up to the first tier.
(***)>>
The seven candidates who didn't make the cut for the debate are
trying to stand out
in a warm-up forum.
The event was sponsored by the
New Hampshire Union Leader
and served as a preview of the first GOP presidential debate Thursday in Cleveland, complete with a spin room where campaign officials played up their bosses' performance to reporters afterward. (1)>>
Indeed a Republican was at the helm when the democrat congress & senate insisted that "Everyone deserves a home". Let's also not forget the same Republican president was faced with 9/11. The American people & BOTH houses of congress demanded he do something about it! Let me see, oh yeah, that would have included H.R. Clinton, J. Kerry, Big J. Biden...and a cast of democrat controlled houses! Remind me....who task is it to make our countries budgets? (2)>>
Debate host Fox News can't reasonably fit the
16 GOP candidates in the race
on the stage and give them each enough time for much more than an opening and closing remark. So Fox is limiting the debate to only the top 10 contenders in national polls — using criteria that have
ruffled some feathers
and opened the network to criticisms over a lack of transparency in its methods.
A whopping 24 million watched
the debate
from 9 p.m. ET to just past 11 p.m. ET. FNC drew 7.9 million in the A25-54 demo.
This is now the highest non-sports cable program of all time, the highest-rated cable news program of all time, and Fox News's most-watched program ever.(3)>>
Donald Trump stole the show before he'd even said a word.
Every elected member in our government from the former White House on down are money grubbing sellouts. They're paid under the table by lobbyists, special interest funds, big corporations, etc. Trump is the only one that actually earns his money.