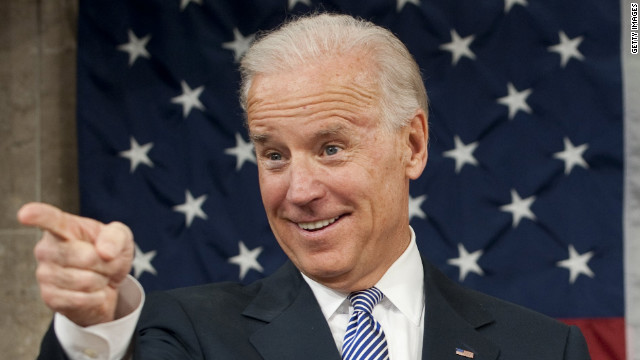 It was bound to happen , along with political fears that Donald Trump was stealing the show right from under the GOP . It placed Hillary Clinton in a precarious situation whose rising star seemed to slipped at the Polls . If her e-mail scandal put a damper on her ambitions
,
it might be
. (1)>>
OTHERWISE
, President Obama got a little nervous about Hillary, that she could take down the entire Democratic party . So Mr. Obama may have "kindly" asked Joe Biden to "please run".
Obama,
very interestingly
, apparently gave no indication that he'd stand in Biden's way. The question is why.
Mr. Biden ran for President in 1988 and 2008 and lost, so why would he be a better candidate now? The Veep would be starting late, and most Democratic officeholders and donors are already committed to Hillary and Bill. Mr. Biden might figure he can run as a more authentic tribune of the middle class, but (3)>> Bernie Sanders has a head start running as the economic populist. On paper at least, Mr. Biden would still be a long shot to defeat the Clinton machine.
The other is among Democrats, and it pits President Obama and Hillary Clinton, the party's presidential front-runner, against a growing chorus of liberals.
If Vice President Joe Biden decides to jump into the presidential race, his decision will be driven, he has said in recent conversations, by a belief that Hillary Clinton's background won't allow her to be a credible messenger when it comes to income inequality, which Biden sees as a defining issue. For a while Mrs. Clinton was a (2)>>
money maker
for the Democrats . My "presumption" is that Hillary will get the nomination , face Trump .
That leaves many Democrats in a painful place: Believing that, in the end, Clinton will be the nominee but worrying that her vulnerabilities could negate the many advantages — from demographics to the electoral college map — that they believe the party nominee should enjoy.
Democrats are worried that the furor surrounding Hillary Clinton's private email server will be prolonged and intensified after her sudden move to hand it over to the FBI.
The Clinton campaign's decision to give up the server and a thumb drive containing backup copies of emails left Democrats scratching their heads as to why the former secretary of State had resisted for months turning over the server.
Coupled with new polls that suggest Clinton is vulnerable, Democrats are nearing full-on panic mode.
New Hillary is hobbled by old weaknesses. Once again, worried supporters see signs of a bunker mentality in response to bad news about her e-mail server and other controversies, and they see a candidate who can seem strangely blinkered to the threat posed by a lesser-known challenger.
Biden's ultimate decision is complicated by delicate, emotionally raw family dynamics. According to the former adviser, who requested anonymity to speak openly, Jill Biden remains hesitant about a campaign as she continues to grieve the death of Beau Biden, who died in May at the age of 46. Beau reportedly encouraged his father to make a third run at the presidency before his death, and the vice president sees the possible campaign as a vehicle to promote Beau's legacy and the issues he cared about.
Beyond family misgivings, Biden is also waiting to see how the current Democratic primary process plays out.
Either Case , Joe Biden would make a better President ( over Mrs. Clinton) if he would win the nomination .
Yet we have to contend with the Polls and they don't lie . So let me "repeat" so far . It could be possible..............
(1)>>
Which leads us to wonder what Mr. Biden and Mr. Obama know about Mrs. Clinton's mishandling of classified information on her personal email server while running the State Department.
The FBI is now investigating, and it's hard to believe the White House wouldn't have some inkling about the seriousness of that probe.
(2)>> T
he question is why. The most innocuous explanation is pure personal affection. Biden's a bereaved dad and he's been a loyal soldier for Obama. This is his last shot to run for president. No matter how many
misgivings Obama and his team have about candidate Joe
, O owed it to him as a friend not to interfere with his candidacy.
sounding out potential donors, and already has commitments from five Obama contributors. On Thursday, Cooper signed on as national finance chair for an independent effort called
Draft Biden 2016
. Launched in March, the Chicago-based group has collected more than 100,000 signatures, and now has staff on the ground in early nominating states – Iowa, New Hampshire, and South Carolina. The group has also hired a national fundraising firm.
Biden could also find encouragement in a new CNN/ORC national poll released Wednesday. Without lifting a finger, he is running second in the Democratic field, at 16 percent. Though Biden is well behind former Secretary Clinton (57 percent), he's in a statistical tie with Sen. Bernie Sanders (I) of Vermont (14 percent).
(3)>>
Bernie Sanders.
Sanders
formally announced
his run for the presidency on May 26, 2015. Since then, Clinton's lead in nationwide polls has dwindled. This paradigm shift has been fueled primarily because of scandals, Clinton's inability to answer questions in a forthright manner, and the energy exhibited by Sanders's supporters. Furthermore, CNN cites a recent Franklin Pierce University/
Boston Herald
poll
that reports Sanders ahead of Clinton in New Hampshire. Even when acknowledging that Clinton still leads Sanders in various other polls, CNN writes that "polling has also shown Clinton's vulnerabilities as voters question her honesty and trustworthiness." Echoing CNN, Quinnipiac University issued a
report
in July titled "Clinton In Trouble In Colorado, Iowa, Virginia, Quinnipiac University Swing State Poll Finds." This Quinnipiac poll explains that Sanders now performs as well, or even better than Clinton.