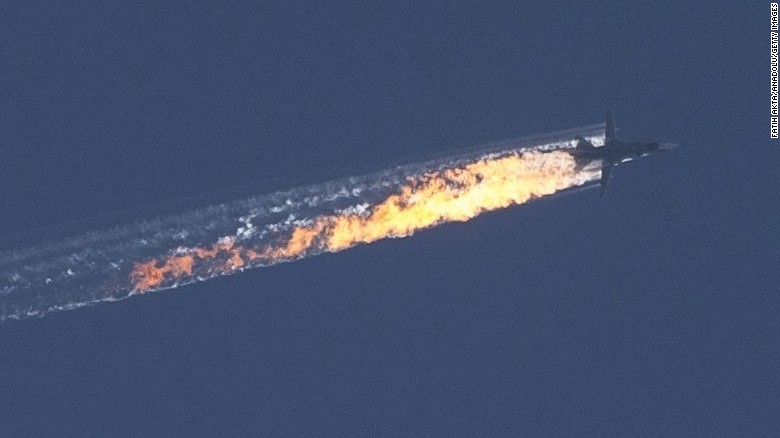 (**)>>We all know that the Middle-East is going out
, as perfectly stated way back on
Sep. 13, 2013 - 10:58 - Sen. John McCain: White House still lacks clear Syria plan, 'old KGB agent' Putin has outsmarted Obama and attained long-coveted clout in the Middle East with maneuvering in crisis.
McCain:
'Things are going to hell in a hand basket here'.
This week (1)>> Turkey added to injury. (photo above)
Turkish F-16s shot down a Russian military jet along the Syrian border on Tuesday, sparking fury in Moscow that threatened to undercut efforts to create a new international coalition to confront expanding Islamic State terrorism.
The Turkish strike, captured by dramatic video, marked the first time since 1952 that a North Atlantic Treaty Organization member has shot down a Russian warplane.
As Russian helicopters searched for the two pilots, President
Vladimir Putin
accused Turkey of a "stab in the back" and (2)>> of aiding terrorists, and state media began a propaganda blitz against Turkey. The Defense Ministry suspended military contacts, Foreign MinisterSergei Lavrov
canceled a Wednesday meeting in Istanbul and Russian tourists were urged to stay away from Turkey, one of the most popular vacation destinations.T
urkey will not apologize for downing a Russian fighter jet it says violated Turkish airspace near the Syrian border, Turkish President Recep Tayyip Erdogan said in an exclusive CNN interview Thursday in Ankara.
"I think if there is a party that needs to apologize, it is not us," he said from the Turkish capital. "Those who violated our airspace are the ones who need to apologize. Our pilots and our armed forces, they simply fulfilled their duties, which consisted of responding to ... violations of the rules of engagement. I think this is the essence."
Tensions in the Middle East have escalated since
the downing of the Russian warplane
, with Erdogan accusing Russia of deceit and Moscow announcing it will deploy anti-aircraft missiles to Syria. A post on the Russian Defense Ministry's Facebook page showed an S-400 missile system being unloaded from a Russian cargo plane.
With the battle against Islamic State on the territory of Syria going full throttle, it appears that Turkey is using the opportunity to continue its (#)>> decimation of the Kurds.
Since July 24, when Turkey jumped into the Syrian cauldron, the Turkish Air Force has largely ignored Islamic State fighters, saving its smart bombs instead for Kurdish fighters who have been on the front lines battling Islamic State. Ankara has also cracked down on the Kurdish population at home, arresting more than 1,000 Kurds across Turkey.
Srdja Trifkovic, foreign affairs editor for the magazine
Chronicles
, said the Turkish Air Force dropped the vast majority of their bombs not on Islamic State positions in Syria, but on those very groups fighting this terrorist scourge, namely the Kurds and the Syrian Army.
Perhaps it was no coincidence that Russian President Vladimir Putin chose the G20 in the Turkish city of Antalya to
disclose
the shocking information that terrorism is being financed by individual businessmen from 40 countries, including from member states of the G20.
"I provided examples related to our data on the financing of Islamic State units by natural persons in various countries. The financing comes from 40 countries, as we established, including some G20 members,"
Putin told reporters following the summit.
This earth-shattering news barely registered a blip on the Western mainstream media radar.
Yet IS does not seem to be sitting on the sidelines in Turkey. According to
Jane's Intelligence Weekly
, a recently leaked memo by Turkey's national police is sounding an "urgent" alarm about the potential for IS-led or -inspired terrorist attacks within Turkey:
The report warned about the presence of "sleeper cells" throughout the country—particularly in the cities of Adana, Aksaray, Ankara, Gaziantep, Istanbul, Kilis, Konya, Mersin, and Sanliurfa—comprising around 3,000 people with direct links to the insurgent group... Furthermore, in a press conference last week, Foreign Minister Mevlüt Çavusoglu revealed the government's concerns about the possible return of at least 700 Turkish citizens currently fighting for the Islamic State.
There's mounting
evidence that Turkey's actions were completely uncalled for. Greece has released data revealing that they could have shot down Turkish jets over 2,000 times, for 2,244 violations of Greek airspace in 2014 alone (according to University of Thessaly statistics based on the Greek military's count)!

Even Turkish officials believe that the

Russian jet had only spent 17 seconds in its airspace

, hardly a reason to shoot it down. It should have known better.

Russia is not taking this provocation lying down though;

Putin had promised "consequences", and by golly he will get them.

While France, America and NATO have called for calm (ironic considering the fact that their implicit defense pact with Turkey has allowed it to move so rashly ) Russia has decided to

calmly

send the 'Moskva', a Slavia class cruiser, to the coast of Latakia .

President

Recep Tayyip Erdogan

One day after saying Turkey fired missiles as "an automatic reaction to a border breach" -- and not knowing the nationality of the plane in question -- Erdogan said Saturday, "We wouldn't have wished this to happen. But, unfortunately, it did."

The powerful Turkish leader didn't lash out at Russia but appeared intent on taking the high road by claiming that "Turkey has never been in favor of triggering tensions and clashes, and we never will be."

"I hope this will not happen again," Erdogan said at an event in Balikesir. "As long as our sovereign rights are not violated, our struggle will continue through diplomatic channels, adhering to international laws and agreements.

The President added, "We hope that the tensions with Russia will not grow and result in more saddening incidents."
NOTES AND COMMENTS:
(**)>>We all know that the Middle-East is going out.
The Middle East, that is, all of Arabia and Persia, has been a basket case since before I was born. Deeply dysfunctional societies that rival sub Sahara Africa for poverty and violence.
If I were to choose a primary cause, it would be Saudi Arabia. Saudi Arabia was the fulcrum of Sunni Arabism because of its financial and political clout. So successful were they in cultivating their view of the Middle East as a homogenous Sunni zone from Morocco to Iraq that it was not until recently that people learned just how heterogenous the Middle East is. Kurds, ten percent of Syrians, suffered under a pan-Arabist vision of a United Arab Republic and then a Syrian Arab Republic that denied their existence. Christians make up ten percent of the population. Saudi Arabia and the Gulf States suppressed their Shiite populations. Of course, Sunnis are not alone in promoting an illusory homogeneity. Iranian Azeris make up twenty percent of Iran. Turkey has long denied that Kurds there are anything but a unique brand of Turk. Israel, in fact, is half-filled by Jewish Arabs who could not survive in the Sunni Pan-Arab myth perpetrated by the Saudis, the Sunni benefactors in the region.
(#)>>
decimation of the Kurds.
President Obama has stated in the past that he does not believe that the Turks committed genocide against the Armenians, so is it any surprise that Obama is fully behind Erdogan as they both commit genocide against the Kurds?
(1)>> Turkey.
This damning report on rapidly re-islamizing Turkey's support for the Islamic State from last year is updated with fresh documentation, corroborating Russian President Vladimir Putin's charge that Turkey is an "
accomplice to terrorists
." Putin and French President Hollande just conducted a meeting in Moscow, indicating Russia and France will
cooperate more closely in targeting ISIS' oil transport lines
, one of the key components of Turkey's aid to the Islamic State, as detailed below.
(2)>> of aiding terrorists.
Through last summer, many Turks also made a
great deal of money
by smuggling oil looted from Iraq, making hundreds if not thousands of regular Turks complicit in putting funds into IS' accounts. So support for IS among the Turkish public could grow if the right ideological and financial benefits can be exploited by the group and are left unchecked by the government.