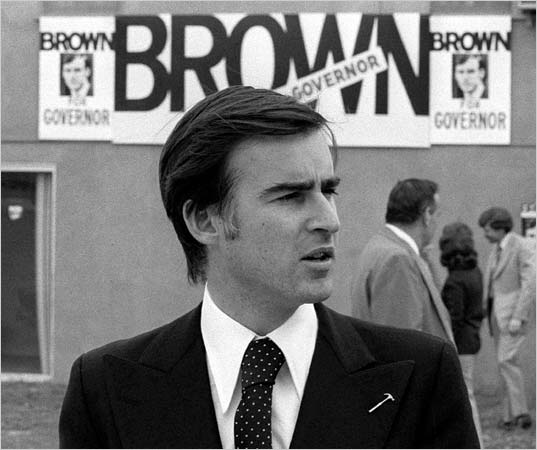 Gov. Jerry Brown severed too many terms. His
shadow has dominated the state for decades.
AS crazy as I am about to say . Gov. Jerry Brown should be "impeached" . Yes he has already violated the State Constitutional law . How ? Has anyone ever heard of term limits ?

How can

Jerry Brown

run for

governor

, since we have term limits in

California? I have to admit that something as obvious as this never occurred to me, trust me , I think Gov. Jerry Brown has been vary shrewd how he handled the state financially . He spoke of surpluses , and rainy day funds.That's how much of a 70's comeback "genius" he is in the world of politics . Gov. Brown has made California even bluer , with the Democratic majority in the legislature . ***I am against his bullet railway train plan that would cost over 90 billion dollars , and likely to bankrupt the whole state. Gov. Brown has done a better job than the previous Gov . Arnold Schwarzenegger . Yet the Governor Brown has his flaws , he follows the policy of a tax and spend liberal , his recent "state of the state"

addressed emphasized more spending.With no solution for California's high unemployment rate.

Brown served as governor from 1975-1983, two terms of four years each. Two terms, four years each, eight total: so how

does he get to run again? The Mercury News recently as quoted said :
"Jerry Brown intends to be the longest-serving governor in state history, and he's going about his business pragmatically, prudently and aggressively to assure that destiny takes place," said Larry Gerston, a San Jose State political science professor. "This is not the Jerry Brown that we knew 35 years ago, and it shows."
Its almost unbelievable ,

The statewide survey showed that 58 percent of registered California voters currently approve of the job Brown, a Democrat, is doing as governor, with 33 percent disapproving and 9 percent having no opinion.

The poll also found that when Brown was pitted against four possible Republican contenders for an open primary in June he would dominate the field - with 52 percent of those surveyed choosing him. The Money is flowing right to Jerry's re -election committee although no mention yet from Brown's mouth that he is trying to run again .

"He has millions of dollars in his campaign account, solid approval ratings and a small number of potential challengers who are virtually unknown, but Gov. Jerry Brown still won't say whether he'll run for reelection next year," the

Los Angeles Times

reports. Gov. Brown is quoted as saying that he :

"I want to advance the progressive agenda," Brown said at the press conference unveiling his supposedly balanced budget, "but consistent with the amount of money people made available … I respect and embrace my role of saying 'no.'"

The governor wants to strengthen the rainy day fund by requiring the legislature to make deposits when capital gains revenues rise to more than 6.5% of the general fund (this year, capital gains revenues made up 10%) and to ## use the reserves to stabilize education funding during downturns.

But taxpayers shouldn't be fooled. Democrats in the legislature could still suspend required deposits. What's more, this plan merely locks in higher taxes and spending, which will be shifted forward. The teachers' union will be the biggest beneficiary since more money will flow to education in downturns. Schools will continue to collect on windfalls due to a state constitutional amendment that guarantees a minimum level of education funding. For instance, schools are slated to receive nearly $10 billion in additional funding this year under the governor's budget in part due to the 2012 voter-approved tax hike, which is throwing off more revenue than the state projected. Under Gov. Brown

The California legislature has approved driver's licenses for illegals and a law that forbids local authorities from cooperating with the Federal gov and deporting jailed illegals unless they've been convicted of serious violent offenses. How exactly does that benefit California? It doesn't. It only adds to our problems. It will only attract more indigent illegals when our educational system, health care system and social services system are already overloaded with problems and rising costs that the taxpayers are forced to sustain. Mean while think on this,

The past week has been abuzz about the possibility that Jerry Brown, currently in his third term as governor, could run for president in 2016. While a long-shot, Brown's impulsiveness over his long political career has led to many phoenix-like adaptations.

If Brown wins decisively in 2014 for his fourth term, his eyes might just wander toward the political prize he so desperately wants. Gov. Brown says it all :

On whether he still has any presidential ambitions:
No, I think I've had my fill of that. I've run more than most living people. And, my work here is in California. And I said I would run, do what I could to fix the budget -- which is well on its way -- and to give the spur to innovation, which is the key to our future.
***Jerry Brown has a reputation for governing in contradictions. For example, he preaches fiscal prudence—and then insists that the state charge full-steam ahead with its quarter-baked $70 billion bullet train. Another example would be his budget plan for the upcoming year. ##
By approving Prop. 30, the state's voters have assured a delay in addressing the state's real fiscal problems for yet another year. Crisis is the only thing that has driven reform here, and now that the state has extra money there won't be any impetus for fundamental reform. We can at least hope that Brown makes good on his promise to put the kibosh on any big new spending programs to come from the newly empowered Democratic legislative super-majorities.