A Bridge over water....water.......
New Jersey Gov. Chris Christie has a new word to pass around , if
"
Bridgegate
" has blown onto the national political stage he has himself to blame . I sure that "he" never knew that b
ack in September, two months before his own re-election, the Port Authority of New York and New Jersey closed two of the three lanes that lead to the George Washington Bridge in Fort Lee, across the Hudson from Manhattan. That caused days of massive traffic jams in Fort Lee, where the Democratic mayor had declined to endorse Christie.
The closures were ordered by David Wildstein,
a Christie confidante
and the governor's appointee to the Port Authority, which operates the nation's busiest bridge. They immediately
sparked speculation by Democrats
that the action amounted to political retaliation against Fort Lee Mayor Mark Sokolich. That led to hearings in New Jersey's state legislature and the December resignations of Wildstein -- who had said the closures were part of a traffic study -- and Bill Baroni, New Jersey's top Port Authority official. Is this what we would call
malfeasance? Gov. Christie is in damage control now . The stunt is far worse than wire tapping your opponent , nor near close to "Watergate " . This whole act is so criminal in nature that a whole city of people was effected . The recently released
E-mails released Wednesday
from a senior aide to Chris Christie and some of his appointees reveal that the blockage occurred in response to an e-mail from his deputy Chief of Staff Bridget Anne Kelly, writing, "Time for some traffic problems in Fort Lee."
"Got it," replied Port Authority official David Wildstein. The voting must have been pretty slow that day , if you were to figure out the reason to create such a traffic jam .
And that leads us to the other side of this scandal: the sheer stupidity of the conspiracy.
Let's block traffic, piss off thousands of people and create a public safety hazard! That'll show the, you know, mayor of, um, Fort Lee?"
How the hell would the closure of bridge lanes and the subsequent traffic negatively impact Sokolich, politically or otherwise? The excuse from David Wildstein, Bridget Anne Kelly and other Christie cronies was that the lane closures were due to a Port Authority "traffic study." Total fabrication of course, but had it been true, wouldn't that negatively impact the Port Authority and Christie's hand-picked man at the Port Authority, his high school buddy David Wildstein?
Seriously, why would Christie's people intentionally harm fellow New Jerseyans to retaliate against a mayor? These aren't very nice — or particularly smart people.
Dennis Rodman's a Communist .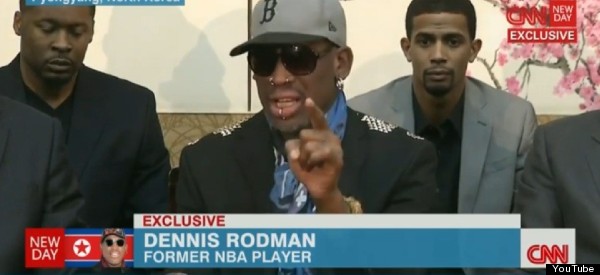 The Thug is in ......
This week other than the Bridgegate affair I have to "thank" Dennis Rodman who on Wednesday led a singalong of "Happy Birthday" to the leader of North Korea, a man he calls a friend and a "very good guy," but considered by many a brutal dictator who recently lauded the execution of his own uncle. In my psychological study Rodman is nuts . He's acting as if he's on a diplomatic mission from Pres. Obama.No kidding.
Rodman is an idiot full of bluster without substance or merit.
I sincerely hope he receives the anger and abuse he speaks about when he returns home and it will be well deserved.
The cigar and sunglasses along with a moderate to serious drunk did lend to his overall WWE stage presence. Too bad all he has is propaganda for his beloved leader to barf up on our televisions.
Maybe instead of coddling a dictator he should go read a book to a kid or something though I do not advocate letting him around children.
Yet, whatever the criticism, Rodman has succeeded in getting Kim's focused and ongoing attention. This follows more than two decades of complete bi-partisan failure in dealing with North Korea in any meaningful way -- a period during which large portions of North Korea's population have starved, tens of thousands (if not more) were exiled and perished in camps, and the West has watched from afar as the country acquired nuclear weapons. We can certainly criticize Rodman's "friendship" in light of the miserable state of the country, the growing North Korean gulag, as well as speculation about
why
The
White House
on Tuesday dismissed former National Basketball Association player Dennis Rodman's latest trip to
North Korea
for an exhibition game.
"Mr. Rodman is on a private trip," White House press secretary
Jay Carney
said. "Our
views about North Korea
and its failure to meet its obligations have not changed."
Most striking were his comments on Bae, a Korean-American who was sentenced to 15 years of hard labor last year on charges that he planned an operation to topple North Korea's government through religious activities. The regime accused Bae of urging people to carry out "hostile acts" against the state. It convinces me that Dennis Rodman is a communist .
ANYHOW. North Korea on the other hand is attracting American business . Gangster rappers are flocking to their Hermit Kingdom to further their
careers.
Two Washington, D.C. rappers are readying themselves for a trip to North Korea in the hopes of becoming famous.
Rappers Pacman and Peso, whose real names are Anthony Bobb and Dontray Ennis, first made headlines back in September, when the Washington Post got hold of their
plan to go to North Korea and film a music video
with the help of a Kickstarter fund. Pacman and Peso had teamed up with Ramsey Aburdene, a commercial lending professional and aspiring producer. They then met Michael Bassett, a veteran once stationed in the demilitarized zone between North and South Korea. Bassett studies the region in grad school and helps plan cultural exchange tours.
Then, the idea was hatched to go to the Hermit Kingdom, film the video, have it go viral and become superstars.
"This is my only option now," Peso, who said he could be "doing wrong in the streets or get locked up," told the Washington Post of the North Korea trip. "If it was to work." .
Soon after their arrival they will be carted off to some labor camp where they can rap to the thousands of poor folks there.
"I'm excited – the only thing I'm not excited about is the plane," Peso said, as neither of the two rappers has ever been on a plane. "We're changing the game.
Nobody has shot a video in North Korea
like we're about to do." Later adding, "If we don't die, it will probably be a big life-changer."