Huma and Hillary is there
something more going on?
Huma Abedin may have been completely forgotten had it not been for two people in her life . First, her husband (1.1)>>Anthony Weiner ,
former member of the United States House of Representatives from New York City, has been involved in two sexual scandals related to sexting, or sending explicit sexual material by cell phone. No one would ever guess that his wife was hiding anything . Recently with Clinton's e-mail scandal, Huma Abedin has hit center stage for the bizarre .
Republican presidential nominee
Donald Trump
on Monday went after former New York Rep. Anthony Weiner (D), calling the husband of a top
Hillary Clinton
aide a "pervert sleaze."
"What about the fact that Huma Abedin — who knows every single thing about Hillary Clinton, she knows more about Hillary than Hillary knows — and she's married to a pervert sleaze named Anthony Weiner, who will send anything that he has out over Twitter," Trump said on "Fox and Friends."
"I mean, she's married to Anthony Weiner. She knows everything that Hillary Clinton is doing, and she's married to a guy that has no control over himself," Trump said.
In June, Trump
accused
Abedin of sharing sensitive information with her husband, saying at the time, "Who the hell wants that? It's not right."
Huma Abedin was known for a long time to be connected to the (1.2)>>Muslim Brotherhood , but these so called "allegations" may have roosted away from media attention ,since the "focus" was Mrs. Clinton . Now some bio on Abedin is how long she was associated with the Clinton's.
While a student at George Washington University, Abedin began working as an
intern
in the
White House
in 1996, assigned to then-First Lady
Hillary Clinton
. In 1998, she was also an assistant editor of JMMA.
For several years, she served as the back-up to Clinton's personal aide. She officially took over as Clinton's aide and personal advisor during Clinton's successful 2000 U.S. Senate campaign in New York
and later worked as traveling chief of staff and "
body woman
" during
Clinton's unsuccessful campaign for the 2008 Democratic presidential nomination
.
Writing in
Vogue
during the 2007 campaign, Rebecca Johnson called her (2)>>"Hillary's secret weapon" and noted that what seemed to motivate Abedin was
not the details of policy or political horse-racing, but rather "the way that politicians are uniquely invested with the power to help individuals—as with, say, the woman whose legs were badly broken by a piece of plane fuselage on September 11," whom Abedin and Clinton visited in the hospital. Abedin told Johnson, "To me, that's one of the blessings of this job. In some tiny, tiny way I am part of history, but I am also able to help people.
According to a number of Clinton associates, Abedin is also a trusted advisor to Clinton, particularly on the
Middle East
, and has become known for that expertise.
"She is a person of enormous intellect with in-depth knowledge on a number of issues—especially issues pertaining to the Middle East," said
Senator John McCain
.
Is she the Mole ?
Gohmert tried to get her security clearance pulled in 2012, had hearings and nothing happened. Breitbart has raised it again and again and again. nothing happened (see Notes and Comments) .
With only 76 days until American voters go to the polls, the email trouble Clinton has tried, unsuccessfully, to put to rest simply refuses to go away.
It seems that her security clearance gave access to Clinton's e-mails .
The 35 pages of emails released Monday include detailed schedules of Clinton's high-level phone calls – and her movements.
The detailed schedules also contain a warning: 'The information contained in this email is not to be shared, forwarded or duplicated.'
One of them was a minute-by-minute
schedule
for Hillary's day on January 31, 2013.
But Abedins email threads lived on Hillary Clinton's private email server, not on her official 'state.gov' acdress. Abedin had a private account through the 'clintonemails.com' domain.
That raises new questions about how Hillary's government aides – not just Clinton herself – may have exposed her to needless risk through the use of an unsanctioned private email account for official business.
Hillary Clinton's health
was a serious concern among friends as far back as 2009, recent
emails obtained through a Freedom of Information Act lawsuit reveal
.
In another email, sick Hillary tells her aide Huma Abedin (who was recently revealed to have ties to an anti-gay, pro-terrorism journal) that she is too exhausted to take a bus and instead must be flown via Air Force Once.
The Abedin emails reveal that the longtime Clinton aide apparently served as a conduit between Clinton Foundation donors and Hillary Clinton while Clinton served as secretary of state. In more than a dozen email exchanges, Abedin provided expedited, direct access to Clinton for donors who had contributed from $25,000 to $10 million to the Clinton Foundation. In many instances, Clinton Foundation top executive Doug Band, who worked with the Foundation throughout Hillary Clinton's tenure at State, coordinated closely with Abedin. In Abedin's June deposition to Judicial Watch, she conceded that part of her job at the State Department was taking care of "Clinton family matters."
Hillary's girlfriend ?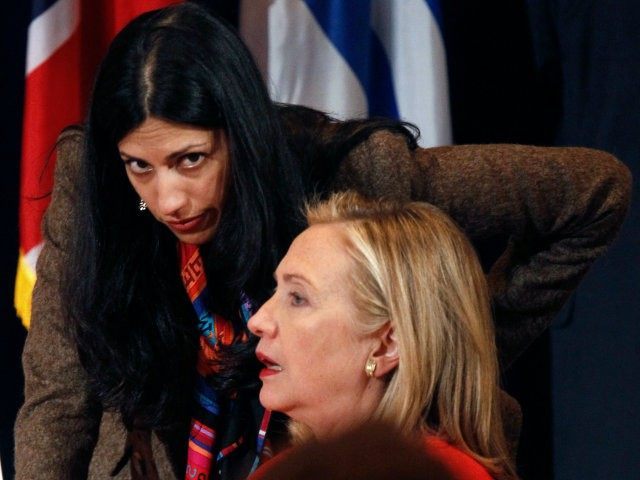 Huma looks on over Hillary .
Hillary's relationship with Huma is strange , but I don't know how much is hearsay , but its peculiar enough is their always seen together . Huma is not a secret agent . Though you could imagine her as one . I think she is another kinda of "agent" .
According to the
National Enquirer
, some of those infamous "deleted" emails that Hillary has been so desperately trying to hide include many lesbian references as well as a list of female lovers she has had.
While reporters haven't published names from the list yet, the lesbian lovers reportedly includes a woman in her early 30s who travels with Hillary a lot, a popular movie star, and the daughter of a major government official. There's even an international supermodel whose career was launched after she slept with Hillary. Apparently, Hillary made the major mistake of mixing private and public emails on her personal email account.T
he
Politico
website had a interesting piece ,
One of its most-read stories is a 2013 slideshow called "How Close Are Huma Abedin and Hillary Clinton?" whose thumbnail promo image is a picture of Abedin (a longtime Clinton aide) leaning in close to Clinton's ear as Clinton expresses what might be interpreted as lightly mischievious amusement.
You might say its idle gossip
, but something else could be going on, PERSONALLY I don't care what sexual orientation otherwise is going on . It's not our "business" , my reservations are that (2.2>>Abedin was a intern during the Bill Clinton administration , she was right in the theater of the Monica Lewinsky scandal .
Of course, the Hillary-Huma "whispers" existed well before 2013. Michael Musto of the
Village Voice
wrote about them in 2007
, as did the
London Times
and
Drudge
. (You can read more about the history of the faux-smear—which ties in with the right-wing-lunatic conspiracy theory that Abedin is an agent of the Muslim Brotherhood—in
Gawker
here
.) It's hard to believe that the various editorial employees of a politics-only news site who were involved in compiling and publishing the images had no idea that there were sexuality-related rumors about Abedin and Clinton.
Interestingly, this seeming conflict-of-interest scenario continued even as Huma followed Hillary to the Obama State Department as Mrs. Clinton's Personal Adviser and Deputy Chief of Staff. Everywhere Hillary Clinton went throughout the world as Secretary of State, Huma Abadin was there as well. By this time, the two women had never left each other's side for thirteen years.
Once whispered rumors were quickly turning to shouts. Obama staffers would openly joke about the Hillary-Huma relationship as did various State Department officials. The name "Huma Clinton" became a particular favorite as the two women were largely considered to be a single, functioning unit.
The FBI is expected to interview Clinton and Abedin in the coming months about their use of private email to process classified information at the department. If a court agrees to a discovery request related to the issue by nonprofit group Judicial Watch, both could also be called to provide public testimony about their email.
NOTES AND COMMENTS:
(1.1)>>Anthony Weiner
.
Anthony Weiner and his wife Huma Abedin appear in a new documentary trying to work through the aftermath of his 2011 downfall - only for a new scandal to shake up their lives.
'Weiner', which was
released
on May 20th in theaters, chronicles his disastrous 2013 mayoral run and his attempt to stage a political comeback, two years after his first scandal.
(1)>>Muslim Brotherhood .
In a letter dated June 13, 2012, to the
State Department Inspector General
, five Republican members of Congress—
Michele Bachmann
of Minnesota,
Trent Franks
of Arizona,
Louie Gohmert
of Texas,
Thomas J. Rooney
of Florida, and
Lynn Westmoreland
of Georgia—claimed that Abedin "has three family members – her late father, her mother and her brother – connected to
Muslim Brotherhood
operatives and/or organizations."
The five members of Congress alleged that Abedin had "immediate family connections to foreign extremist organizations" which they said were "potentially disqualifying conditions for obtaining a
security clearance
" and questioned why Abedin had not been "disqualified for a security clearance."
The claims in the letter were generally rejected, and were labeled by some as
conspiracy theories
.
The Washington Post
editorial board called the allegations "paranoid," a "baseless attack," and a "smear."
The letter was also criticized by, among others, House Minority Leader
Nancy Pelosi
and Representative
Keith Ellison
, Democrat of Minnesota, the first Muslim member of Congress, who called the allegation "reprehensible."
Senator
John McCain
, Republican of Arizona, also rejected the allegations, saying "The letter and the report offer not one instance of an action, a decision or a public position that Huma has taken while at the State Department that would lend credence to the charge that she is promoting anti-American activities within our government....These attacks on Huma have no logic, no basis and no merit."
Bachmann's former campaign manager
Ed Rollins
said the allegations were "extreme and dishonest" and called for Bachmann to apologize to Abedin.
The
Anti-Defamation League
condemned the letter, calling upon the Representatives involved to "stop trafficking in anti-Muslim conspiracy theories."
(2)>>"Hillary's secret weapon".
Apart from their working relationship, Abedin and Mrs. Clinton have also developed a close personal bond over their years together, as reflected in Clinton's 2010
assertion
that: "I have one daughter. But if I had a second daughter, it would [be] Huma." In 2011, Secretary Clinton paid a friendly visit to Abedin's mother, Saleha, in Saudi Arabia. On that occasion, Mrs. Clinton publicly
described
her aide's position as "very important and sensitive."
(2.2>>Abedin was a intern during the Bill Clinton administration .
Therein we find the long-whispered about relationship between Hillary Clinton and Huma Abedin, a relationship that began at the very same time Bill Clinton began his own involvement with Monika Lewinsky. Hillary and Huma have been inseparable for nearly a quarter century and yet, remarkably, Huma Abedin remains a name the vast majority of Americans have never heard of. Abedin must have been close enough to have heard rumors regarding Bill.