The jihadists of (#)>>ISIL, better known in the Arab world as (1)>>
Daesh,
have helped force millions of people in Iraq and Syria to go abroad in search of refuge. This quagmire was the result of an American foreign policy to oust Syrian ruler Assad .
It is anything but. Assad was promoting a secular government. It was the Sunni extremist that did not like this and they are the ones who started the Syrian civil war. As American arms flowed into the hands of the Sunni rebels in (2)>>Syria , the crisis began.
Yet along the way, those refugees now have found themselves punished for the atrocities that ISIL commits in Europe. There has been a debate among Capital Hill since
The Brussels terror attacks that killed at least 31 people Tuesday have reignited the debate on Capitol Hill over the Obama administration's plans to let in thousands more Syrian refugees, amid fears the Islamic State could use the opening to enter and threaten the homeland.
But after the attacks in Brussels, as after those in Paris, Europeans will face the temptation to put such reasoning aside and conflate the foreign victims of terror with its homegrown perpetrators?
According to Fox News, the Islamic State
claim
s responsibility for the
Brussels bombings
that have thus far killed 34 people and injured dozens others.
Belgium has flown back to Baghdad more than 100 Iraqi migrants who volunteered to be repatriated, including some that claimed life as asylum seekers was so hard they preferred to die at home.
Part of a joint pilot initiative run by Brussels and the International Organisation for Migration (IOM), the charter flight took off on 1 February, as EU governments were increasingly focusing their efforts to curtail the migrant intake on deportations.
The 106 passengers were all Iraqis whose asylum request had been turn down, or had agreed to be sent back home with their application still pending. Many said they had grown disillusioned after arriving in Belgium, as they found
the situation was worse than they expected
.
GOP lawmakers say ISIL aims to exploit the crisis to send jihadists into Europe and the U.S. In Washington, those same critics immediately renewed calls to limit the U.S. refugee program after bombs ripped through the Brussels airport and subway.
The governors — in Alabama, Arizona, Arkansas, Florida, Georgia, Idaho, Illinois, Indiana, Iowa, Kansas, Kentucky, Louisiana, Maine, Massachusetts, Mississippi, Nebraska, New Hampshire, North Carolina, Ohio, Oklahoma, South Carolina, Tennessee, Texas and Wisconsin — were reacting to attacks in Paris last year and the possibility that refugees seeking resettlement in the USA might include people with terrorist ties.
Twenty-three of the 24 governors are Republican. The lone Democrat is Gov.
Maggie Hassan
of New Hampshire.
The painful fact is that Muslims migrating to Europe, especially those coming as refugees, almost never assimilate into the culture, but remain on the outside looking in, often brooding, resentful, and ripe for radicalization. There are a number of reasons on both sides accounting for this, but it's a fact that European governments ignore at their peril.
The EUROPEAN UNION AT RISK.
Belgium's Ambassador to Australia Jean-Luc Bodson has cautioned against linking the issue with the deadly attacks in his homeland this week.

"It's dangerous because it's precisely what IS wants — that we would make a confusion between terrorism and migrants and between terrorism and Islam," Mr Bodson told ABC News Breakfast.
The mentality is starting to change since this week's bombings. "My own view is that Europe is falling down," Mr. Benelcaid said. "The EU is facing so many issues with no responses, like migration, terrorism, unemployment. They give billions and billions of euros to young people for jobs formation and there are no results."
The attacks highlighted yet another crisis for the bloc, this one institutional,
The scope of the failure was made plain when Turkish President Recep Tayyip Erdogan revealed that his country had deported Ibrahim el-Bakraoui, one of the suicide bombers who struck Zaventem airport, to the Netherlands last year with the warning that Mr. el-Bakraoui was a "terrorist foreign fighter." Belgian police also knew that Mr. el-Bakraoui and his brother were associates of Salah Abdeslam, the sole surviving Paris attacker, but couldn't locate either man, even after Mr. Abdeslam's arrest last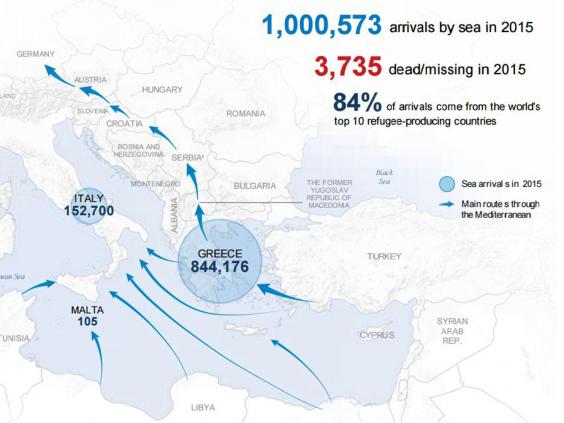 Friday.
Even before the identities and nationalities of the attackers were known, there was an immediate association in popular discourse between the attacks on the airport and subway station in Brussels and the migrant crisis. Right-wing politicians and average citizens alike raised concerns that groups like the Islamic State, which claimed responsibility for the attacks, are slipping radicalized recruits, including European jihadists, through the vast migrant stream and into an unprepared Europe.
with a stark choice between idealism and realism. Both tragedies have been described as major tests, with many voices saying they have exposed Europe's failures. Criticism is piling up, and comes from pro-European Union and anti-EU circles alike.
Europe's problems are essentially political. Terrorism is a danger, but must be kept in perspective. In the last 12 years it has killed 400 people in Europe – a tiny fraction of the number of victims in other parts of the world. The refugee issue is important, but remember that the number of arrivals in 2015 represents just over 0.2% of the EU's population.
The main question for what has become an epic crisis in Europe is what happens next, as millions of displaced people move to a continent dealing with its own economic hardships. They may never find what they're looking for, and locals may not be happy with their presence. All the while, the hardships from which the refugees are fleeing show no signs of ending.
OBAMA IN CUBA . (The Reaction).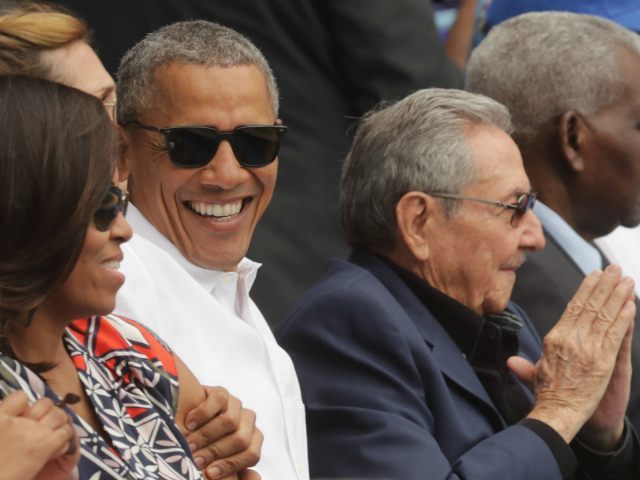 Mr. Obama at a baseball game
in Cuba , next to wife and
Raul Castro .
They the Republicans didn't want Obama to go to Cuba because they didn't want -- like the opening to Cuba. What was he going to do differently once he came to the United States? This was an attack in Belgium. (3)>>His repose was "shallow". The President's
declined to cancel or tone down his schedule in Cuba and Argentina. He joined Cuban dictator Raúl Castro at a baseball game in Havana on Tuesday, where he was seen doing "the wave," and he and the First Lady danced the tango at a state dinner in Argentina on Wednesday. It seemed that opening up diplomatic relations with Cuba was more important . Another point is that the freqeuncy of terror attacks , and mass shootings in America have worn down the Presidency to a low point as to the response is like
"ah just live with it , be strong...."
However Mr.Obama has pretty much turned a blind eye on Islam over the years , not generally saying that Islam is a motive for perpetrating extremism . IS affiliates like
Al Qaeda branded the not so used title of "
Islamofascism
". President Obama is afraid to insult Muslims that he caters too often , but he has failed to mention in any of his press conferences about the Christian genocide , and Christian refugees that have been trampled down ( swept under the rug) by promoting the fleeing Muslims who are being killed by other Muslims . His shallow remarks show his state of mind .
"We must be together regardless of nationality or race or faith in fighting against the scourge of terrorism." So Obama is assuming that fellow Muslims will unite to fight ISIL . In plain words his term of office is almost over, he cares vary little any more .
NOTES AND COMMENTS:
(#)>>ISIL
What's in a name? When it comes to how to refer to the extremist group that has terrorized Syria and northern Iraq and violently imposed a caliphate, a lot.
I have refused to call
Daesh by its western "name" ISIS for a number of reasons .
The Islamic State of Iraq and Syria (ISIS) is a bit of a misnomer, says France, as it lends the imprimatur of Islam to a group that the vast majority of Muslims finds despicable. "This is a terrorist group and not a state.
Zeba Khan,
writing for the Boston Globe
, has explained why "Daesh" could be read as an insult: "Depending on how it is conjugated in Arabic, it can mean anything from 'to trample down and crush' to 'a bigot who imposes his view on others.'"
(1)>>
Daesh. http://thetruthaboutsyria.tumblr.com/
Neocons and the mainstream U.S. media place all the blame for the Syrian civil war on President Bashar al-Assad and Iran, but there is another side of the story in which Syria's olive branches to the U.S. and Israel were spurned and a reckless drive for "regime change" followed, writes Jonathan Marshall.
Syria's current leader, Bashar al-Assad replaced his autocratic father as president and head of the ruling Ba'ath Party in 2000. Only 35 years old and British educated, he aroused widespread hopes at home and abroad of introducing reforms and liberalizing the regime. In his first year he freed hundreds of political prisoners and shut down a notorious prison, though his security forces resumed cracking down on dissenters a year later.
But almost from the start, Assad was marked by the George W. Bush administration for "regime change." Then, in the early years of Barack Obama's presidency, there were some attempts at diplomatic engagement, but shortly after a civil conflict broke out in 2011, the legacy of official U.S. hostility toward Syria set in motion Washington's disastrous confrontation with Assad which continues to this day.
(2)>
>
Syria , the crisis began
.
The horrific war in Syria,
which has been going on since 2011, has caused some 4.8 million people to flee in desperation. More than a million refugees arrived in Europe last year, the majority of them Syrians, and the pace did not let up with the start of 2016.
(3)>>His repose was "shallow".
Obama urged international unity in the fight against terror after the attacks left at least 34 people dead.
"We will do whatever is necessary to support our friend and ally Belgium in bringing to justice those who are responsible," Obama said in brief remarks while in Cuba, where he was making an address to the Cuban people after his administration ended decades of estrangement between the two countries.
"and we stand in solidarity with them in condemning these outrageous attacks against innocent people."
"This is yet another reminder that the world must unite," Obama said. "We must be together regardless of nationality or race or faith in fighting against the scourge of terrorism."