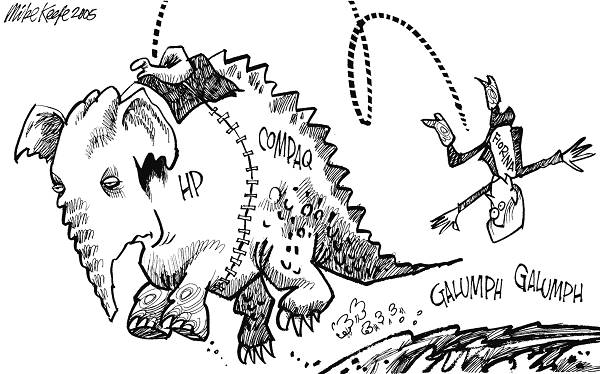 "Carly Fiorina go home!"
My message to this wealthy woman . T
he former CEO of Hewlett-Packard, whose only previous attempt at elected office was an unsuccessful 2010 bid to displace Sen. Barbara Boxer—going after Clinton for her is what Sarah Palin did for Obama. Such a waste of a character . First of all she needs to run for a public office that she could win .
Fiorina doesn't have a long political track record, aside from a failed run for the U.S. Senate in 2010
*** First she is not vary popular , she is listed as one of the " worst bosses" ever.
Judging by a resume that consisted of 30,000 firings and a 50-percent HP stock decline, Fiorina is a sure shot for any worst CEO list. In 2001, she suggested employees take voluntary pay cuts, and while 86 percent agreed, she still outsourced thousands of jobs overseas and implemented huge layoffs. A 2008 article in
Entrepreneur Magazine
touched on the employee morale during Fiorina's reign: "A survey of 8,000 employees revealed widespread unhappiness about poor communication and poorly implemented decisions...Some workers booed the CEO at company meetings."
As a
now-official
presidential candidate, there's no way Carly Fiorina can ignore her tenure at Hewlett-Packard, which she ran as CEO for six tumultuous years before the board ousted her in 2005. (1)> By that time, the company's stock had lost about half its value and tens of thousands of people had lost their jobs. @
Fiorina registers near the bottom of polls of the dozen or so Republican hopefuls and has never held public office.
But she has already attracted warm receptions at events in the early voting state of Iowa where she is positioning herself as a conservative, pro-business Republican highly critical of Democratic candidate Hillary Clinton.
This logic (however gendered and arguably sexist) may well get Fiorina an initial hearing from the Republican electorate in the months to come. But if that initial hearing goes well, then the tough questions will begin: Why is she running for president? What is her essential message to GOP voters? And, beyond an ability to lambaste Clinton, is she actually a good messenger? Fiorina also expressed the "gender card" against Mrs. Clinton ,
"If Hillary Clinton were to face a [Republican] female nominee, there are a whole set of things that she won't be able to talk about," Ms. Fiorina told reporters Thursday at a breakfast hosted by The Christian Science Monitor. "She won't be able to talk about being the first woman president. She won't be able to talk about a war on women without being challenged. She won't be able to play the gender card."
Since she entered the 2016 presidential race, Fiorina has deftly managed to control the media narrative around her candidacy. The former CEO has assembled a crack team around her that managed to turn what might have been a bad news cycle into a success story. Fiorina was briefly mocked for failing to purchase a URL that could be linked to her campaign.
FAILURE. But then maybe Ms.Fiorina knows this feeling as well. Be GLAD you LEFT Carly.
*** Fiorina stated that she is qualified :
"Yes, I am running for president. I think I'm the best person for the job because I understand how the economy actually works. I understand the world, who's in it, how the world works," she said. However "
...and the 30,000 people you shit-canned know EXACTLY what kind of shit stain you'll leave this country...... @
Carly destroyed Bell Labs. Then she went on to run Hewlett Packard to the brink of bankruptcy before the board of directors fired her. Now she thinks she knows how to run the U.S. Government?
She knows how the world works? She sure didn't know how HP worked. Had to resign. If she thinks a lousy record as a failed CEO is going to get her in the WH, she's going to be in for a surprise. What is it with this people who have a false sense of confidence? They get far in life, no matter how badly they do things or how bad their ideas really are. (1)> Fiorina laundry is dirty for example :
Fiorina skipped California owing buckets of cash to her onetime pals. She owes $60,000 to former campaign manager Marty Wilson, who now works for the California Chamber of Commerce, and another $20,000 to his former communications firm. She shorted campaign counsel Ben Ginsberg, formerly of Patton Boggs, to the tune of $44,000. She owes $3,750 to a former press secretary, $5,000 to another communications aide and $7,500 to her erstwhile political director. She stiffed political consultant Joe Shumate, who died in 2010, to the tune of $30,000.