Our New Congress . Can it be able to show any
functionality?
If anything is " white-washed" it's our American Congress

Congress is 80 percent white, 80 percent male and (3)> 92 percent Christian

. (1)>

The 114th Congress, which gets to "work" on Tuesday, is one of the most diverse in American history, comprised of nearly (2)>

20 percent women

and just over

17 percent of which is non-white.

Which means, of course, that four out of five members of Congress are white and four out of five are men. Do we have a problem with our Congress ? Sure . Let look at

Former Virginia governor Bob McDonnell,

who asked a judge Tuesday for mercy

for his wife and himself, was sentenced to two years in federal

prison for public corruption

.McDonnell was convicted Sept. 4 of trading access to the power of the governor's office for more than $165,000 in loans and high-end gifts. Prosecutors had wanted him to spend more than 10 years in prison, but early in the four-hour hearing Judge James Spencer said federal officials misinterpreted the guidelines, contending the range was more like 78 to 97 months — 6½ to a little more than 8 years. So what's McDonnell have to do with the new congress . Let's talk "Bribes" ,

A direct result of lobbyist using their influence. The country is no longer ran for the
people..
After stuffing Wall Street's stockings in December with
subsidies
for risky trading, the House of Representatives plans to wish big banks a happy New Year on Wednesday by hacking up and delaying the Volcker Rule.
The Volcker Rule is a key reform adopted after the 2008 financial meltdown that bans banks from gambling in securities markets with taxpayer money -- a tactic known as proprietary trading. But under
legislation
slated for a Wednesday vote, banks would be given a two-year reprieve from unloading some of their riskiest holdings -- known as collateralized loan obligations.
The deregulation measure is one of 11 changes to the 2010 Dodd-Frank financial reform law ++ that Republicans will bring to the floor under a single bill Wednesday. The legislation can only pass the House if dozens of Democrats support it, since the bill will be brought up under special rules that require a two-thirds majority for approval. Rep. Keith Ellison (D-Minn.) will lead the opposition to the bill for Democrats on the House floor. Ellison will likely be opposed by House Minority Whip Steny Hoyer (D-Md.), who voted for a similar bill in April, and supported the bank subsidy in December.
It's simple , you can't send McDonnell to prison with out sending the rest as well. Congress members over the years done the same . *** Today our political system is pretty much dysfunctional . The President is about to VETO , and as you can guess we will be back in gridlock with the screaming , and finger pointing. What's going to happen is that the last six years of President Obama's "reforms" are up on the chopping block .
GOP heads hope to get back on track with their aggressive agenda to forcefully confront President Barack Obama on the top issues of the day, including the Keystone XL pipeline, immigration, health care and national security.
Approval of the Keystone pipeline, which the administration has delayed for years, tops the GOP agenda. Votes are planned on the House and Senate floor during the first two weeks of January. GOP leaders also plan quick votes on Obamacare and immigration.
What's required now is pivoting from messaging to legislating. We believe opening day of the 114th Congress is key in adopting the changes that are conducive to consensus-building and laying the foundation for potential cooperation. At a moment when the American electorate is so closely divided, it is even more incumbent upon Congress to develop solutions that bridge the political gulf, rather than policies that simply reflect ideological entrenchment.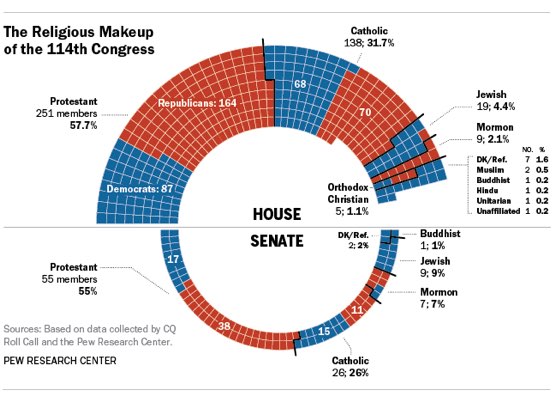 NOTES AND COMMENTS:
****
Our nation is bought and owned by the 1%, and there's only one way we'll ever separate the two. It will take another crash, another big bank bailout, and then, when enough Americans get the shaft, and lose everything, there will be a long overdue revolution......., ++
Republicans believe their legislative plans will sharpen for voters the contrast between the GOP and Democrats, and set the stage for the 2016 presidential and congressional elections . (1)>
In 2014, voters
hated Congress
and elected to change it, giving Republicans control of the Senate and an even wider majority in the House. But are the politicians they sent to Washington all that different from the ones they kicked out? (2)>
Some things will change in 2015. There will be more women serving in the 114th Congress, which opens Tuesday, than ever before, 104 in total. And the House Republican majority, with 247 members, will be the party's largest since 1929. But some things about Congress will remain the same: There will still be
plenty of lawyers and career politicians
. (3)>
Pew Research: "When the new, 114th Congress is sworn in on Jan. 6, 2015, Republicans will control both chambers of the legislative body for the first time since the 109th Congress (2005-2006). Yet, despite the sea change in party control, there is relatively little change in the overall religious makeup of Congress, according to a new study by the Pew Research Center. More than nine-in-ten members of the House and Senate (92%) are Christian, and about 57% are Protestant, roughly the same as in the 113th Congress (90% and 56%, respectively)....
As was the case in the 113th Congress, the biggest difference between Congress and the general public is in the share of those who say they are religiously unaffiliated
. This group makes up 20% of the general public but just 0.2% of Congress. The only member of Congress who describes herself as religiously unaffiliated is Rep. Kyrsten Sinema, D-Ariz. (4)>
Swearing in the congressmen...with a Bible?
So they swear by something that's not allowed to be taught,
is that really separation of church and state?
what a double minded nation we live in and then we... wander why?
There's an old proverb; If a kingdom stands divided within itself...how long will that kingdom stand?