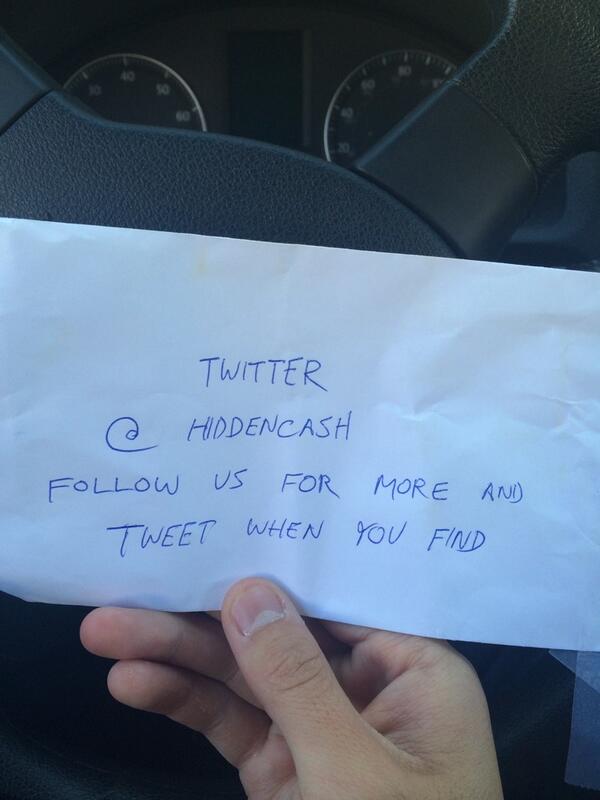 Free Money . Greed at it's best.
There has been a initial craze, It's become a phenomenon -

An anonymous wealthy man is using Twitter to create a 'social experiment for good.' He sends out clues for hidden Benjamins, giving away $1000 daily to alert followers in San Francisco.

Last week, someone operating the Twitter handle

@HiddenCash

started sharing clues and images of places around San Francisco where he had hidden envelopes stuffed with cash. There hasn't been much of an explanation behind the scavenger hunt; the anonymous

cash man

wanted only one thing: for those who find the envelopes to pay it forward. (1). There has been photo's and videos reported in the news of people rushing , and making dangerous moves on the road just to find the envelope with this money.

A big concern too is the combination of people and greed, disputes arising over who saw or found the envelope first and someone getting hurt or worse. This phenomenon is no philanthropy from a millionaire , and hardly a work of charity . ***It's sounds more like a big psychological joke on the 99 per-centers , and the millionaire admits its a social experiment perhaps on the nature of human greed .
The Capitalistic nature of Man.
We are a capitalistic country so we capitalize on peoples needs and wants until it does not sell.

Capitalism does not have morals. When will people realize that it is neither greed nor coldness and realize if there was incentive for capitalism to follow a moral code it would. Capitalism is a machine that serves the investments that support it. Change the machine, change the incentive.

They have no boundaries and no one is willing to crack down--the money is sufficient enough for too many, so they look the other way.
*** Hidden Cash states as why he's doing it :

"There are a few reasons I would like to keep my privacy," HiddenCash said. "One, some people close to me wouldn't like that I am giving money away. Two, I enjoy having my privacy. Three, (I) had some publicity before and nothing good ever resulted from it." ---

"I just hope some rich one-percenter like me doesn't find it and keep it," HiddenCash said. "In no way is this meant to be instead of charity. I also donate generously to charity." (1).

@HiddenCash told KNX 1070 he shares concerns about public safety, but police are nonetheless worried that some people might go overboard and endanger themselves and others while making a dash for the cash.